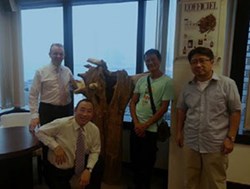 Now I see a lot of incense trees in Hong Kong have been logged, so I want to preserve them.-- Chan Koon Wing
Hong Kong (PRWEB) October 26, 2013
Mr Chan Koon Wing is the last remaining licensed commercial grower of Agarwood in Hong Kong SAR, a third generation Aloeswood farmer known locally as "The Hong Kong King of Fragrant wood known as Agarwood / Aloeswood".
Asia Plantation Capital (APC) is pleased to announce a joint venture with Mr Chan to help safeguard his existing trees, plant more trees and expand his plantation plus build a small visitor centre and develop longer term commercial opportunities.
Asia Plantation Capital is the largest commercial grower of agarwood trees in Southeast Asia; producers of sustainable and organic oud oils for the international fragrance market, medicinal and incense industries. Robert Timmermans, Special Projects Consultant at Asia Plantation Capital clarified that Hong Kong means "Fragrant Harbour" translated to English. He continued "We first heard about Mr Chan on the CNN news report "Saving the 'Hong' of Hong Kong". We had been long aware of Hong Kong's once important status as one of the world's most revered producers and suppliers of agarwood, and how it had been harvested to virtual extinction for its prized incense from this valuable native tree. Once aware of Mr Chan, we made it our mission to help him achieve his goals, similarly as Mr Chan learned of our extensive scientific research and advanced techniques, he suggested we enter into a joint venture and become partners to help him manage and develop his plantations and business."
Initially Asia Plantation Capital is providing additional management, labour, security and funding to help Mr Chan maintain and manage his plantations and to protect the trees from theft, which at anywhere from US$500 to US$1,000 for an individual tree is a big issue! Asia Plantation Capital will also be creating a tree-nursery and small visitor centre to explain plantations and showcase agarwood and its end uses. Stage Two will see the installation of Hong Kong's first agarwood distillery in over a century, using the latest advanced systems developed by Asia Plantation Capital in Thailand to process Aloeswood into Oud oil. The oil produced at this distillery will be used to create a limited edition Hong Kong Fragrance by Fragrance Du Bois guided by one of the leading "noses" in the world of fine fragrance, Francois Merle, a 5th Generation French perfumer from the global perfume capital of Grasse.
In 2012, CNN quoted 55 year old Mr Chan "My grandfather was the one in the family who started planting these incense trees back in the day, when I was a young boy I followed him up in the hills to help. Now I see a lot of incense trees in Hong Kong have been logged, so I want to preserve them." Pairing a 5th generation perfumer with a 3rd generation agarwood / Aloeswood grower Asia Plantation Capital felt was a natural choice, and perhaps another World First in helping showcase the centuries of tradition involved.
Asia Plantation Capital sees this joint venture as part of their long term commitment to ensure the artisan traditions of growing agarwood & incense trees does not die out and actually continues to flourish alongside commercial plantations. In 2009, Asia Plantation Capital reintroduced agarwood to Sri Lanka where it had been completely wiped out by high demand from the Middle East and Chinese markets. Now four years later, the trees are flourishing and other plantation operators in Sri Lanka are following the Asia Plantation Capital lead, even working locally with Asia Plantation Capital experts as a source of knowledge and advice to establish their own plantations.
Until the early 20th Century, Hong Kong was known throughout the world as "The Fragrant Harbour". It is the ambition of Asia Plantation Capital and Mr Chan, along with his two sons, and with the help of Fragrance Du Bois, to restore his family name and Fragrant Harbour image back to Hong Kong, safeguarding its heritage for future generations. Re-establishing its rightful place in what is now a global industry with an estimated annual value somewhere between US$6 and US$12 billion.