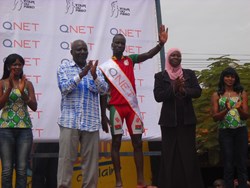 "Burkina Faso and the whole region is an emerging and dynamic place which we are pleased to be supporting as an economic partner." - JR Mayer, QNET Managing Director
Ouagadougou (PRWEB) October 25, 2013
Prominent Asian direct selling company QNET returns as a major sponsor of the Tour du Faso, the 10-day race that is a fixture of the African cycling circuit and a major annual event for Burkina Faso.
QNET Director of Sports Sponsorship, Mr Joachim Steffen, said he is extremely pleased to return to Africa and work with the Burkina Cycling Federation to support this year's event for a second year.
"As a global company, we support sporting events all over the world because we believe they bring diverse people and communities closer together. We are thrilled to be associated with this year's Tour and look forward to a successful race. We wish all the teams a safe and enjoyable competition," he said.
QNET is also a major sponsor of the Marussia Formula 1 racing team and recently featured as an advertising partner in the 2013/2014 season of the Barclays Premier League.
QNET Managing Director, Mr. JR Mayer, said that the Tour Du Faso is a natural fit for QNET as the company is growing rapidly in Burkina Faso and throughout Sub-Saharan Africa.
"Burkina Faso and the whole region is an emerging and dynamic place which we are pleased to be supporting as an economic partner."
In August, QNET established a local affiliate, QNET East Africa Ltd., and launched its e-commerce platform in Rwanda, as the company prepares for business expansion on the African continent.
In a further sign of QNET's commitment to Burkina Faso, planning is underway for a large conference for the company's local and regional representatives scheduled for November. Attendees will hear from company leaders and receive training on QNET products which include online courses, holiday packages, European watches, jewellery, fitness and nutritional supplements.
The company's slogan, 'the right products in the right business', reflects the company's commitment to not only life-enhancing products but also to providing a rewarding and sustainable career option for its Independent Representatives.
Tour du Faso
In this 27th edition, the Tour Du Faso will make its way through 10 stages, crossing the stunning African landscape that is rural Burkina Faso. The total distance covered by the cyclists will be a staggering 1,300+ km in searing heat over 10 days. International teams mostly from African countries will compete in the race.
Contact
For more information about QNET's sponsorship of the Tour Du Faso and for further interview opportunities with QNET representatives in the region, please contact:
Bado Fisouali
Mobile: +22 677984848
bado(dot)fisouali(at)the-v(dot)net
About QNET
As a prominent Asian direct selling company, QNET provides a wide range of life-enhancing products that are offered through its proprietary e-commerce platform to customers and distributors in over 100 countries. The company also has some 25 offices and agencies worldwide, and more than 50 stockists, apart from localised operations or franchisees in a number of countries.
QNET is a member of the Direct Selling Associations of Malaysia, Singapore, and the Philippines. QNET is also a part of the Hong Kong Health Food Association and the Health Supplements Industry Association of Singapore, among others.
QNET is active in sports sponsorships around the world, including Formula 1, football, badminton and more, due to the company's strong belief that the drive, passion and teamwork of sports mirror that of QNET.
For more information, please visit: