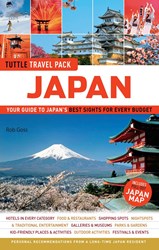 North Clarendon, VT (PRWEB) October 28, 2013
The new book in a series of multi-budget travel guidebooks from Tuttle Publishing, Tuttle Travel Pack Japan promises first time visitors and seasoned travelers a convenient guide to Japan. Lightweight and easy to navigate, the guidebook is an ideal choice for travelers with hundreds of references to the most up-to-date websites, Tuttle Travel Pack Japan is also practical for planning a trip to Japan ahead of time.
Packed full of 160 color photographs from renowned local and international photographers, Tuttle Travel Pack Japan lays out all the essential sightseeing spots. Tuttle Travel Pack Japan comes equipped with a convenient pull-out map in the back pocket of the book, and eight full color detailed maps for tours of the major cities.
An all-in-one travel guide, Tuttle Travel Pack Japan provides visitors with three ways to experience Japan:

Japan's "Don't Miss" Sights: All the must-see stops, from World Heritage Sites like the Kinkaku-ji Golden Pavilion Temple in Kyoto, to Japan's contemporary art galleries of Naoshima Island
Exploring Japan: Activities to check out in Japan, including hiking Mt. Fuji for the adventurous, and a list of kid-friendly places & things to do for traveling families.
The Author's Recommendations: A rare insider's perspective, with detailed commentary from expert author and 14-year resident, Rob Goss.
The guidebook is now available for purchase at bookstores, Tuttle Publishing or on Amazon.
About the Author
Rob Goss is a full-time writer specializing in features and travel pieces on Japan. Goss is widely published in Time and National Geographic Traveler magazines and contributed to both the Fodor's and Rough Guide to Japan. Fourteen years after landing in Japan, Goss continues to live in Tokyo with his wife and child.
About Tuttle Publishing
Established in 1948 by Charles Egbert Tuttle Jr. in Rutland, Vermont and Tokyo, Japan, Tuttle Publishing is the premier publisher of English language books on Asian culture. Today, Tuttle maintains an active offering of books on a wide range of topics, including Asian culture, Asian literature, Asian architecture, Eastern spirituality, gardening, cooking, martial arts, crafts, travel, health and wellness, and fine art for a worldwide audience.