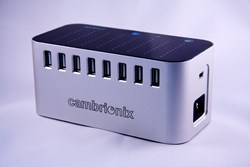 Charge 8 USB devices all in one place!
(PRWEB UK) 29 October 2013
Cambrionix chargers keep iPad, Android phone, Samsung Galaxy, Nintendo, iPhone, iPod and the rest running and under control. The series8 charges 8 USB devices, controlling each one individually for the fastest charge time and safest battery-­‐protecting charge. Its high‐end design matches today's high-­‐end devices.
-Put it in the kitchen and keep the phones downstairs overnight, helping the children get a good night's sleep
-­Centralised charging area for all your gadgets.
-­Get rid of all those untidy chargers
-­Solves the "Mum! Where's my phone charger?
Cambrionix… Very Intelligent Charging.
Cambrionix will be exhibiting at the Gadget Show in London from 1-­‐3 November, and will have a limited number of their new series8 units for sale at a special Gadget Show price.
Cambrionix supplies finished products and electronic components for use in hospitals, schools, homes and businesses that need to manage and control updates, synchronise data and charge USB-­‐connected devices reliably and quickly. Cambrionix technology is incorporated by system integrators into a variety of form factors including carts and charging pods which are sold around the world. Cambrionix was established in June 2007 and is based in the St John's Innovation Centre, Cambridge, UK.
Gadget Show Gadget Show Live @Christmas takes place on 1-­‐3 November 2013 at Earls Court in London. Tickets are available to buy at http://www.gadgetshowlive.net You can follow Gadget Show Live @Christmas on Twitter @gadgetshowlive, Facebook at /Gadgetshowlive, Youtube /gadgetshowlivetv and Instagram @gadgetshowlive