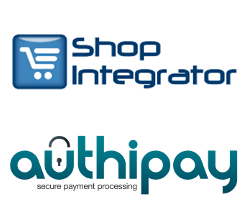 Harpenden, UK (PRWEB) October 28, 2013
Authipay offers transparent pricing and simple integration to enable businesses to maximise selling online.
Find out how to sign up to Authipay today here or contact us on UK: 0845 301 5407, Ireland and International on: +353 12182100.
Authipay is brought to you by AIB Merchant Services, a merchant acquiring joint venture between First Data Corporation and Allied Irish Banks p.l.c. AIB Merchant Services is the trading name of First Merchant Processing. First Merchant Processing is regulated by the Central Bank of Ireland.
Find out more about the ShopIntegrator free trial.
Established in 2004, ShopIntegrator provides SMEs with secure, easy-to-use hosted shopping cart software. ShopIntegrator's competitive pricing and straightforward installation process allows merchants to turn their website into an online store within a matter of minutes. McAfee Secure and PCI compliant, ShopIntegrator's shopping cart is compatible with most websites so there is no need to change web hosting companies.
ShopIntegrator is a powerful e-commerce and m-commerce checkout. There is no software to install and its uncomplicated, no cost set-up requires little technical knowledge and can be added into HTML website templates or DIY site builders such as Weebly, Moonfruit, Yola, Webnode, 1&1 MyWebsite, Basekit, Webs and Vistaprint. ShopIntegrator also has dedicated plug-ins to simplify adding ecommerce into popular Content Management Systems (CMS) such as WordPress, Drupal and DotNetNuke (DNN).