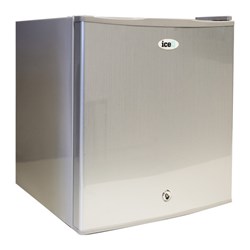 The iceQ brand is fast growing a reputation for quality appliances that are manufactured to the very highest standards.
(PRWEB UK) 29 October 2013
The latest additions to MiniFridge.co.uk's selection of reasonably priced and high quality cooling appliances include table top fridges and mini bars with glass and solid doors. Manufactured by iceQ, these small fridges are a natural fit for the MiniFridge.co.uk range - offering smart design coupled with efficiency and reliability.
The iceQ brand is fast growing a reputation for quality appliances that are manufactured to the very highest standards. As well as having an attractive appearance and a quality finish, each of the iceQ small fridges now being sold by MiniFridge.co.uk is a practical and reliable appliance that offers convenience and efficient cooling at a low cost.
Table top fridges and mini bars from iceQ
Perfect for use in shared accommodation,  games rooms, offices and other workspaces, the iceQ table top fridges have a capacity of 48 litres and an extremely quiet running operation. Using a compressor cooling system, these small fridges boast an efficiency rating of A, which means they won't cost the earth to run. They are also extremely lightweight, and have a cooling range of one to eight degrees. With a removable shelf, two racks and an ice box, there are plenty of options for storing food and drinks of various shapes and sizes. The fact that the doors are lockable, makes these table top fridges ideal for use in communal spaces, helping to ensure that food and drinks are kept not only nicely chilled, but also completely safe. The iceQ table top fridges are available via MiniFridge.co.uk in either white or silver.
As well as table top fridges, iceQ also manufactures sleek mini bars, and these too are available at MiniFridge.co.uk. Compact, quiet and effortlessly stylish, the 24 litre capacity mini bars from iceQ make the perfect cooling appliance for bedrooms, hotel rooms, meeting rooms and office spaces. These smart little fridges have been developed by iceQ for keeping drinks perfectly chilled in an unobtrusive and elegant appliance. Using a thermoelectric system, they have a cooling range of five to eight degrees - cool enough to ensure that drinks will always be served at their optimum temperature. Available with either a solid or a glass door, these are sleek and effective mini bars, and thanks to their near silent operation and low energy consumption, they are also extremely efficient small appliances.
The home of small fridges
With an ever-expanding selection of products, MiniFridge.co.uk has grown into the UK's leading online destination for mini fridges, and also stocks a wide range of mini bars, commercial fridges, kitchen gadgets and other cooling appliances. The new table top fridges and mini bars from iceQ are representative of MiniFridge.co.uk's ongoing commitment to offering highly efficient and attractive cooling products at the lowest possible price.