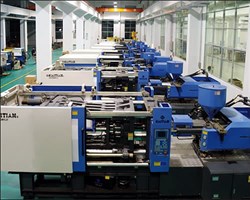 (PRWEB) October 25, 2013
China injection molding factory Wuxi Glory Plastics has attended the 114th Canton Fair a few days ago. According to the CEO of the company, Wuxi Glory Plastics has an enjoyable and fruitful trip in the fair. It showcased over 39 new designs and offered special deals at the show.
"We are now still excited about the 114th Canton Fair. The Canton Fair is considered as a key component in the global trade engine. It is one of the most well-known shows for many industries, so we have prepared for it for a long time," the CEO says.
"As it is a significant trade show, we arranged our most professional staffs to work at the fair." He adds, "In addition, we brought top quality designs of PVC bottles, plastic bottles, medical containers, handles, cases, and more. Many customers came to buy our products, and a lot of them are now keeping in touch with us. They are going to do business with us in the near future. We are really proud of that."
Wuxi Glory Plastics is a popular online company. The company has the newest technologies and practices; all its products go through a strict quality control. It has more than 2000 customers worldwide and a large proportion of them have business relationships with the company for years.
About Wuxi Glory Plastics:
Wuxi Glory Plastics was established in 1995 and is based in China. It specializes in providing various types of plastic injection molding and blow molding services. The company also offers customers discounted shipping for its products, as well as unmatched customer service More details at: http://www.plastics-molding.com.