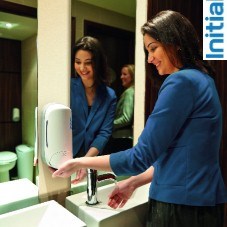 Initial offers a range of quality soap dispensers which are restocked by replacing a sealed refill at every service, ensuring soap that is protected from contamination.
Cape Town, South Africa (PRWEB UK) 31 October 2013
Workplace absenteeism from illness is a significant cost for employers in terms of not only money lost, but also the associated decrease in productivity. It also puts added pressure on other colleagues, who undoubtedly have to carry the additional workload, putting them at risk of fatigue.
IHC research has shown that in the average company approximately 4.5% of the workforce is absent on any given day, with this figure going as high as 18% in certain industries. (Neil Lilford, Integrated Human Capital). Absenteeism in general could be costing the country's economy as much as R12 billion a year, according to research conducted by AIC Insurance.
Although invisible to the naked eye, thousands of germs can be found on surfaces and objects all around the office. Initial offers the following key hand hygiene facts:

80% of infectious diseases are transmitted by touch* Cold and flu germs can live on surfaces for up to 48 hours, and stay alive on your hands for up to three hours**
There can be more than 20,000 germs on a phone or desktop**
The average desk has 400 times more germs than the average toilet seat**
A computer mouse harbours 1,600 germs per square inch**
By encouraging good hand hygiene practices - such as always washing hands after visiting the bathroom and before and after meals - and ensuring that all colleagues have access to hand washing and hand drying facilities, employers can make the workplace a far healthier place to be, thus limiting the incidences of cross infection and the associated knock-on effect on productivity.
However, a recent blog post by Mike Sullivan (Managing Director of a hand hygiene products supplier in Europe) raises some concerns over refillable bulk soaps. A bulk-fill soap dispenser is one where liquid hand soap is poured into the open reservoir at the top of the unit. Because this reservoir is open to the environment, bacteria can contaminate the soap, which leads to the formation of a "bacterial biofilm" on the inside of the dispenser.
According to Sullivan, biofilms are groups of bacteria that coat a surface and are particularly difficult to wash off or "kill". Because the biofilm is on the inside of the dispenser, it contaminates any new soap being added to the dispenser, and subsequently the user's hands, creating a situation in which the hand washer leaves the bathroom with hands that are potentially even more contaminated than when they entered!
Fortunately Initial, a leading supplier of workplace and bathroom hygiene services, offers a range of high quality soap dispensers which are refilled by replacing a sealed refill at every service. The liquid soap inside the refill is protected from contamination as it is factory sealed and includes a fresh valve with every refill. This means that the soap is never open to the environment and is therefore prevented from becoming contaminated from the air or other sources.
For areas without running water, Initial offers portable hygiene wipe or gel dispensers. A University of Arizona study proved that regular use of gel and foam hand sanitizers can reduce illness and absenteeism by as much as fifty per cent, proving that good hand hygiene makes sound financial sense too.
About Initial: For a more information Initial's occupational and hand hygiene services, or to arrange for a free hygiene survey of your business, contact Rentokil Initial on 0800 77 77 89 or visit their website.
About Rentokil Initial: The Rentokil Initial group specialise in pest control, hygiene services and interior landscaping for businesses across the globe. Using leading-edge, environmentally-friendly technology, their experts deliver a wide range of tailored services to businesses of all kinds. Rentokil Initial South Africa has operations in all major business centres across the country.
*Bean, B., Moore, B. M., & Sterner. (1982). Survival of influenza viruses on environmental surfaces. Journal of Infectious Diseases, 146 (1), 47-51
**Dr. Charles Gerba (2002) "Germs in the Workplace" study, University of Arizona.