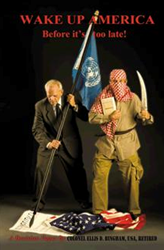 "This book was written from the heart of an old soldier who fears for his country," said Bingham.
Birmingham, AL (PRWEB) October 27, 2013
Retired soldier and military analyst Col. Ellis D. Bingham casts his vote for change in his book "Wake Up America, Before it's too Late".
Bingham explores the threats that currently face US citizens and emphasizes the importance of upholding the Constitution and retaining American values. Covering issues such as Social Security, energy dependence, the economy, second amendment rights, Israel and The United Nations, Bingham seeks to show readers that America and its Christian heritage are in danger of being destroyed.
By providing historical facts to support his claims, Bingham touches on seven specific topics of concern for the average American citizen. He hopes to inspire readers to take action and exercise their freedom as citizens of the United States.