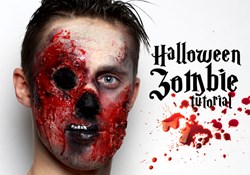 At Becomegorgeous.com, we are committed to helping our readers find information that helps them look and feel good.
(PRWEB) October 28, 2013
The Halloween holiday is just around the corner and the issue of finding a cool costume and a frightening makeup look for the occasion is becoming more and more urgent. Deciding what to choose from the multitude of Halloween costumes and Halloween makeup ideas can be a little overwhelming especially if these decisions are put off until the last minute. A zombie makeup look inspired by the popular series The Walking Dead can be a good choice for those who want to keep their costume relatively simple, but getting the right results might require a bit of practice.
Becomegorgeous.com releases a zombie makeup video tutorial to help those who are thinking about about embracing this type of look for the spooky holiday get the desired effect. Despite the fact that this type of look seems simple enough, it actually requires a lot of steps as well as some preparation beforehand. The zombie makeup video tutorial reveals every step of the process.
To avoid any misunderstandings, the article also provides written instructions on all the products needed for creating the look and provides comprehensive explanations for every part of the process. The look can work well for both men and women, however it is highly recommended to try creating the look a few times to avoid any possible mistakes and even asking for help when needed.
Those who aren't too keen on experimenting with complicated makeup looks and tend to postpone the what to wear for Halloween decision as much as possible will most likely benefit from a few last minute Halloween makeup ideas. Unlike the complex zombie makeup look, these don't require as many skills and thus have much lower levels of complexity. The article also offers a few ideas regarding original, easy Halloween costumes which can certainly come in handy when receiving an unexpected Halloween party invitation.
Women who are fed up with the same sexy vampire/cop/nurse cliches but still want something easily recognizable, might want to consider choosing a pop culture inspired Halloween costume. From popular TV series to infamous celebrities, there are many interesting choices worth considering as they are instant conversation starters. Furthermore, nothing says "2013" better than a costume inspired by the year's most memorable releases and events.
About us
Becomegorgeous.com was created in 2007 and has become a comprehensive source of information on high interest topics for women of all ages ever since. Its goal is to help women find the tools they need to be able to explore their full potential and become the best version of themselves. It focuses on delivering high quality content on a myriad of subjects ranging from fashion, makeup and beauty care tips to health and fitness, love and relationships, travel and living and entertainment. The growing beauty community allows users to share their thoughts and concerns with like-minded individuals.