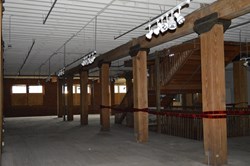 This building is one of the last remaining icons of the industrial era downtown. To be able to maintain the structure and update the interior to modern technologies is a privilege that allows us to maintain an important part of history. Joe Ahmann-owner
Cedar Rapids, IA (PRWEB) November 21, 2013
In October, Joe Ahmann, owner of The Great Furniture Mart received the authorization letter for Enterprise Zone funding that was applied for in June of 2013. This application submitted to the IEDA in Des Moines, is one of hundreds taken under consideration for essential funding for the growth and overall success of a project.
Receipt of state funding allows the quality and style of the original concept for building renovation to be maintained. This contributes to the long term and projected growth of Cedar Rapids Urban Living.
Enterprise Zone Funding is allowed for projects to promote new economic development in distressed areas of Iowa by encouraging communities to target resources in ways that attract productive private investment.
Now, Fusion Architects and Compass Commercial Services are pleased to move forward with interior plan designs and demolition to begin the core work establishing the base structure that will make the building ready for construction.
The neighborhood of The Great Furniture Mart building was severely impacted by the flooding in 2008 and has recently experienced growth by the construction of the New Federal Court House, the upgrade of True North Insurance offices and The Great American Leasing buildings.
The addition of commercial as well as residential capabilities made available by the renovation of The Great Furniture Mart to this area will continue to revitalize downtown economic growth.
Compass Commercial Services is a full-service General Contracting and Construction Management firm in the Cedar Rapids area specializing in a wide range of commercial construction projects including interior and exterior renovations, remodeling, building additions and the complete construction of new buildings. As a TRUE design-build firm, Compass Commercial Services is poised to complete projects from the ground up. From the initial design through the entire building process, customers have the advantage of working directly with one company, and a team that is structured to deliver final projects on time, and on budget.