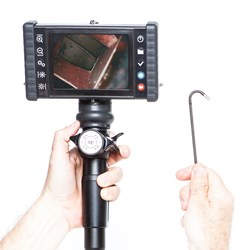 The iRis DVR X video borescope is the highest quality, full feature video borescope in it's price range.
Melbourne, FL (PRWEB) October 30, 2013
The new iRis DVR X Video borescope is portable, hand held and weighs in at only 2.9 pound (1.35 Kg) and can snake through areas as small as 4.0mm (.155 inch). The iRis DVR X is the first video borescope from Advanced Inspection Technologies to break the barriers of portability while offering a true high-resolution image and advanced features. The iRis DVR X video borescope will be a welcome tool for remote visual inspection professionals across a wide range of industries. Advanced Inspection Technologies expects robust sales of the iRis DVR X video borescope due to the advanced features, portability and low price.
The new iRis DVR X video borescope offers users a variety of useful features: A tough tungsten braided sheath provides exceptional durability and wear resistance, high resolution CMOS imager for the clearest images, water proof to 30 feet, 4-way tip articulation allows viewing around corners, a brilliant adjustable LED light illuminates the area being inspected, still images and video can be recorded on the removable 32GB SD memory card; best of all. the internal battery can be recharged for 6 hours of continuous operation. The iRis DVR X video borescope also includes on screen comparison measurement for the most critical inspections.
The new iRis DVR X video borescope was designed for industrial remote visual inspection at power generation, petrochemical, process, food, and pharmaceutical plants. Law enforcement officials and other professionals will also find the portability and features of the new video borescope useful. Applications include: inspection of gas turbines, aircraft, high purity weld inspection, HVAC, industrial and commercial pipes, heat exchangers, boiler tubes, process lines and more.
About Advanced Inspection Technologies: AIT is currently the fastest growing provider of remote visual inspection tools worldwide. We are committed to providing the best possible inspection tools, the highest level of customer service and technical expertise. Our borescope, videoscope and pipe inspection camera expertise helps our customers to quickly and efficiently conduct visual inspections of the most remote reaches of their plant and equipment. AIT partners with industrial customers to provide solutions to their inspection needs in the most cost effective and precise manner possible. AIT currently has customers in dozens of countries and five continents. Industries we serve include: power generation, petrochemical, pharmaceutical, pulp & paper, precision manufacturing, process pants, aerospace and others.