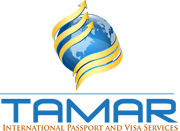 New York, NY (PRWEB) October 25, 2013
Would-be travelers will have no problem getting their passport requests expedited as long as they can prove they are traveling, but Tamar International warns of a few things to keep in mind when getting or using one.
The Passport Office is self-sustaining and was therefore unaffected during the recent government shutdown, but Tamar reminds people to not wait to have their passports issued as one never knows when there could be delays. Also, it is important to check expiration dates. Depending on the country, one may not be able to board a flight if the passport is expiring in three to six months. Passports must be renewed if the expiration date is in three to six months. Finally, certain consulates will not issue visas if the passport does not have at least six months left on it before expiring.
Tamar International is an expedition service for passports. In order to use any expediting service for a U.S. Passport, the Department of State requires proof of international travel within two weeks, or four weeks if a visa is needed. Tamar International is registered as an official U.S. Passport expediter and serves all 50 states. For more information, visit their website at http://www.tamarintl.com, or call 646-475-6463.
About the Company:
Tamar International is the premier passport and visa expediting agency. By establishing a one-to-one relationship with its clientele, both the leisure traveler and the corporate jet setter, individuals receive optimal service in regards to their specific needs.
The lack of personalized attention from larger expediting companies drives its client/expeditor relations in addition to increasing in the expansion of Tamar International's customer base.
Tamar International Passport and Visa was founded to achieve not only express service but a phenomenal relationship between traveler and expeditor.