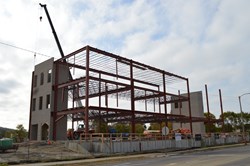 The staff is so anxious for this new building and work location. To see it begin to really take shape builds the excitement beyond description!
Cedar Rapids, IA (PRWEB) November 08, 2013
The Geonetric headquarters, located at 415 12th Avenue SE, under construction since August 2013 will blend into the surrounding ambiance by highlighting its unique history. The site location was formerly the home of 'Iowa Stone Works', and Compass will feature this name within the façade of the building. The structure is also designed in a classic industrial motif using distressed brick and iron work that allow it to fit in the surrounding neighborhood as well as standing out as an established business center of the area.
The interior and working features of the building will offer some of the most ecologically conscious and modern conveniences that are available today. This is evident from the cost effective yet superior air quality HVAC system down to the smallest details within amenities and fixtures.
Compass Commercial Services has worked side by side with the Geonetric staff to appreciate and promote being environmentally conscious as well as to focus on its employees and their wellbeing. Geonetric prides itself in holding these issues as a priority while it continues to prosper in the technological marketplace.
As the building starts to really take shape, we are learning more about what will contribute to the overall life of the structure besides the Geonetric offices. A basketball court outside as well as other amenities, will support and welcome neighborhood interaction within the surrounding area and throughout the entire Newbo district.
About Compass Commercial Services:
Compass Commercial Services is a full-service General Contracting and Construction Management firm in the Cedar Rapids area specializing in a wide range of commercial construction projects including interior and exterior renovations, remodeling, building additions and the complete construction of new buildings. As a TRUE design-build firm, Compass Commercial Services is poised to complete projects from the ground up. From the initial design through the entire building process, customers have the advantage of working directly with one company, and a team that is structured to deliver final projects on time, and on budget.