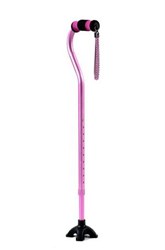 Lady Lake, Florida (PRWEB) October 25, 2013
Walking-Canes.Net has just received a new line of offset handle walking canes called Fashionable Bling Style Offset Cane. These new walking canes offer fashion and function combined. The stylish offset handle cane comes with the "Bling" style strap which has a crystal embellished look and style
The new Fashionable Bling Style Canes are made of lightweight aluminum and are adjustable to fit any height for the user. The weight limit on the new cane is 250 pounds. One of the unique items about this item is the new Quadruple Tip that comes on it. The new tip is made from rubber and is pre-fitted to offer a very pleasant experience in using it. The quadruple tip allows the user to navigate almost any terrain including uneven surfaces and loose gravel. The tip allows the cane to stand on its own without help. Enhanced stability leads to less fatigue and stress on the hand from the quadruple rubber tip. Tip measures 4 inches x 4 inches. Try one of the new offset Canes and see and feel the difference.
Walking-Canes.Net also offers the same offset handle cane in a basic version without the Bling Style Strap. The choice of colors is the same as the fashionable Bling style. The color choices are black, green, orange, pink, and purple. Pick one of the new colors and make a statement with your fashionable walking cane.
The offset handle is one of the most basic of basic style canes that exist. It has been a staple in the industry for many years and is sure to be around for many more. If help is needed in making a decision please contact the customer service department at 1-888-928-1774 and one of the professional customer service reps will assist in making the purchase. Enjoy your new Offset Bling Style or Basic Style Cane.