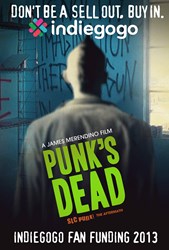 Crowd funding has become a quasi requirement for us independent filmmakers
New York, New York (PRWEB) October 28, 2013
Earlier this year, writer/director James Merendino announced he had finished the script to the sequel to SLC PUNK, PUNK'S DEAD. SLC Punk, starring Matthew Lillard, Annabeth Gish, Til Schweiger, Michael Goorjian, Devon Sawa, Jason Segel, Chris McDonald and Adam Pascal was released by Sony Pictures Classics in 1999. It tells the story of Stevo and Heroin Bob, two young punks in the Mormon Salt Lake City. Most of the original cast is expected to return in the sequel, which will also include a new generation of actors.
Why crowd funding on Indiegogo? SLC PUNK has become a rite of passage movie for 100,000s of teenagers and young adults. It continues to find an audience with new generations who intimately relate to characters and story, and as Fans watch and talk about the movie time and again. After the sequel announcement, fans started to connect in large numbers through social media to celebrate the 15th anniversary of the original and to share their excitement about the making of the sequel.
"Crowd funding has become a quasi requirement for us independent filmmakers," says Producer Andrea Kreuzhage, who also was one of the producers of the original film. "But especially for this sequel it makes perfect sense, as the fans of SLC PUNK are eager to see how the story continues and have been pushing for a way to get involved." Hence the decision to raise part of the budget through Indiegogo.
"The thing I find appealing about crowd sourcing is that it's a way for everybody to join the party, we are all VIPs, we are all big shots. Indiegogo is an amazing conduit for us to do this. Plus I really like the word gogo, it reminds me of girls dancing in giant bird cages," says James Merendino. "That said, I am really looking forward to getting on the set, making this movie. I'm excited to collaborate again with some old friends as well as new friends like Branden Steineckert, who will definitely help me put together a killer soundtrack."
The soundtrack is an important element of the timeless success of SLC PUNK, featuring iconic bands such as The Ramones, The Specials, Minor Threat, and Rush. The sequel's soundtrack is expected to be as good, says Co-Executive Producer Branden Steineckert, who also plays drums for legendary Punk Rock band Rancid. "Having spent most my life in Utah and growing up as a punk skater, SLC PUNK really resonated with me on many levels. It was an instant classic and hilarious! When I heard news of a sequel I immediately wanted to get on board with it. I am excited to be involved in helping with the music and other aspects of the film. I love the script and can't wait for others to enjoy it too. Punks, mods, goths and posers around the world will love Punk's Dead!"
The Indiegogo Campaign is starting this day October 28th until December 5th and intends to raise $250,000 plus through crowd funding.