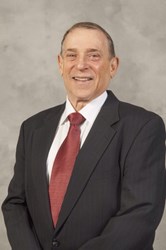 (PRWEB) October 25, 2013
Dr. Kenneth Chessick, principal partner of the Law Office of Kenneth C. Chessick, M.D., and soon to be Of Counsel to Clifford Law Offices when the two firms join on Nov. 1 will attend a dedication along with NIU President Douglas Baker Saturday. A ribbon cutting is scheduled for the facility at 11:30 a.m. Saturday, 1245 Stadium Dr., DeKalb, IL, on the university campus and an open house for the public to tour the sports training facility is scheduled for noon - 2 p.m. Chessick is also an attorney and alumnus of NIU.
NIU's football team, with a current 7-0 record and ranked 18th in the nation, the highest ranked college in Illinois, practiced for the first time in preparation for this weekend's game against Eastern Michigan University in this state-of-the-art facility.
"My wife and I are privileged to be a part of this tremendous occasion and hope to see the years of our hard work help the students at our beloved alma mater, NIU," Dr. Chessick said. "Providing this training facility for our dedicated student athletes to continue our winning tradition at NIU is a privilege for us. NIU athletic prowess is an important element of university life, which unites the entire campus, students, faculty, administration, alums and fans and builds passion, loyalty and engagement. With this gift, we hope to enhance the experience for all NIU students, and especially our dedicated student-athletes."
Dr. Chessick is a 1984 graduated from the NIU College of Law. He received his medical degree from the University of Illinois College of Medicine in 1968. He also established the Kenneth C. Chessick Legal Training Skills Center at the NIU College of Law in 2004 and three years later he created a series of annual Kenneth C. Chessick Civil Justice Endowed Scholarships named in honor of his legal clients.
Thursday, Dr. Chessick also delivered the figurative "Last Lecture," an annual speech sponsored by the NIU chapter of Mortar Board Honorary Society. Dr. Chessick spoke on the topic "How an Ordinary Guy Can Do Extraordinary Things."
____________
For further information, please contact Restaurant.com Public Relations Manager, Kelli McCready at 847-506-9680 or Clifford Law Offices Communications Partner, Pamela Menaker at 847-251-4877 or 847-721-0909.
About Restaurant.com
Restaurant.com is the trusted and valued source connecting restaurants and diners nationwide. The company offers savings at thousands of restaurants nationwide with more than 50,000 gift certificate options. Restaurant.com brings people together to relax, converse and enjoy well-prepared and served meals at affordable prices. To date, Restaurant.com customers have saved more than $1 billion through the gift certificate program. Restaurant.com has operated since 1999 and is based in Arlington Heights, Ill.