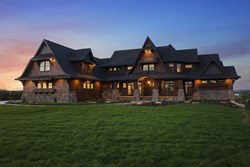 This is the biggest and best night of the year for the Twin Cities' home building community.
Roseville, MN (PRWEB) October 27, 2013
A full house at a red carpet Awards Gala on Thursday, October 24th, suggests the regional housing market continues to gain strength. The Builders Association of the Twin Cities (BATC) honored its top firms and individuals for excellence in home building last evening at the Lafayette Club in Minnetonka Beach with emcee Jason DeRusha, WCCO TV Morning Anchor. With over 460 guests, the event featured the 45th annual Reggie Awards(sm) and the 23rd annual Trillium Awards(sm), both presented for design and construction excellence in new homes.
The evening also included presentation of the coveted Builder of the Year and Associate of the Year trophies to firms that exemplify the highest standards in business conduct. BATC recognized winners of its Robert L. Hanson Service Award for industry service, Spike of the Year for recruitment of new members, and its Advocate of the Year for work by a member in the advocacy arena. In addition, BATC bestowed Legislator of the Year award to State Representative Michael Nelson (Brooklyn Park) for his support of the housing industry.
"This is the biggest and best night of the year for the home building community," said Pamela Belz, BATC 2013 President and Project Manager for Senior Housing Partners. "And this year clearly showed that our membership is on the mend after a long and difficult recession."
With more than 30 percent increase in attendance from 2012 to 2013, the packed house enjoyed networking and bidding on a substantial list of donated items to benefit the BATC  Foundation. The charitable arm of the Builders Association raised a nice sum to continue its efforts providing housing and remodeling for families in need.
Awards and Winners are available on the BATC Newsroom.
The Builders Association of the Twin Cities is the leading voice for builders and remodelers. BATC represents 1,100 builders, remodelers, developers and industry suppliers with a mission of helping its members grow their businesses through marketing, advocacy and industry connections. BATC is widely recognized as a powerful force at the state Legislature and with state regulatory agencies. It's also known for its twice-a-year signature events: The Parade of HomesSM and Remodelers Showcase®. In addition, BATC offers Minnesota's Green Path, a growing new home and remodeling certification program providing healthy, durable, energy-efficient homes to buyers and homeowners.
# # # #
Photos available on request.
Photos and More Information Contact:
Wendy Danks, 651/697-7565