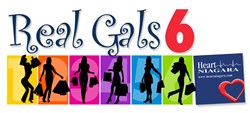 Get Real and Join Us!
(PRWEB) October 30, 2013
Calling all Real Gals! Enjoy a day with your favorite gal pals—shopping, pampering and drinks, oh my!
Real Gals is a signature annual fundraiser for Heart Niagara to be held on Saturday, November 9th, 2013 at Club Italia, 2525 Montrose Road, Niagara Falls from 9 a.m.-3 p.m. Tickets cost $35 per person. Tickets include a swag bag, light lunch, some drinks, and access to over 20 local vendors. Many vendors are offering "real deals" only available at Real Gals 6.
In addition to shopping, guests at Real Gals 6 can expect:
•Drinks and Lunch
•A Silent Auction with over 60 items
•Massages by Trillium College
•Old Bags Live On- previously loved bags including high-end vintage bags
•An Art Auction with over 25 pieces of unique art
•Breakfast bar from 9-11:30 with coffee, and fruit
•Photographer to take "gal pal" portraits
•Entertainment
•Raffle featuring 6 great prizes
•Live painting
•Swag bags filled with freebies
All funds raised support Heart Niagara's Healthy Heart Schools' Program. This program is unique to the Niagara Region, Canada and perhaps the world. Annually, the program visits over 5,500 adolescents within the school system to promote physical activity and healthy eating, prevention of disease, awareness of health risks, and emergency preparedness. Real Gals is a win-win event for all- Heart Niagara, the community, and Real Gals like you.
Get your tickets today online (https://guestlistapp.com/events/177132), email info(at)heartniagara(dot)com or phone 905-358-5552.
If you are a vendor and are interested in joining, please contact Terra at realgals(at)heartniagara(dot)com for an application.