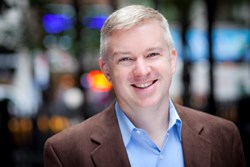 NEW YORK (PRWEB) October 25, 2013
Smartling (http://www.smartling.com), the cloud-based enterprise translation management company, announces that its Founder & CEO Jack Welde secured the #29 slot on the Silicon Alley 100 list of The Coolest People in New York Tech, as selected by the editors of Business Insider. The Silicon Alley 100 2013 was created to celebrate the people who did the coolest things in technology, the city's second largest job sector.
Smartling joins four of its clients—Shutterstock (#1), Foursquare (#66), Vimeo (#88), and Spotify (#89)— and one of its investors, First Round Capital (#57), on the SA100 list.
"It's awesome to be named alongside our clients and an investor on this distinguished list," said Jack Welde, Founder & CEO, Smartling. "In a city that's a thriving tech hotspot with billion-dollar valuations, we're proud to be recognized in the top third and to help other companies doing cool things expand globally."
Smartling's localization software solution offers real-time visibility and control over all aspects of a translation project in one easy-to-use, collaborative, cloud-based platform. By putting the entire translation process in the cloud, Smartling dramatically improves accuracy and speed, while reducing overall costs. The platform is enterprise-ready with HIPAA, PCI Level 1, and SOC 2 certifications, and meets the rigorous requirements of the largest consumer web and mobile companies, as well as the Global 2000.
About Smartling
Smartling, Inc. simplifies and accelerates translation and localization for companies reaching a global market. With the first cloud-based enterprise platform for translation management, Smartling helps companies quickly translate and deploy their websites and dynamic web applications, mobile applications, and business documents across the entire corporate digital infrastructure. Named "Most Innovative Startup" at Dow Jones/Wall Street Journal's 2011 FASTech 50, Smartling is shaking up the outdated translation and localization industry with the first platform designed to manage the entire translation, localization and delivery process via a scalable SaaS model. Brands who rely on Smartling to launch and manage localized multilingual websites and applications include Spotify, SurveyMonkey, Foursquare, Path, Vimeo, Kodak, HotelTonight, Uber, GoPro, and more. The Smartling platform currently serves billions of page views per month in 100 languages across the globe.
Founded in 2009 and headquartered in New York City, Smartling is privately held and backed by leading venture capital firms, including Tenaya Capital, First Round Capital, IDG Ventures, U.S. Venture Partners, Venrock, Harmony Partners and several prominent angel investors.
###