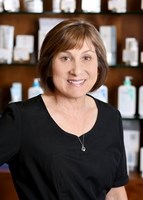 This new machine should reduce the need for skin cancer surgeries in some patients and we're thrilled to have someone with Roseanne's expertise join the practice.
Keller, Texas (PRWEB) October 28, 2013
Dermatology Alliance-Keller, an award-winning provider of medical and cosmetic dermatology services in Keller and North Fort Worth, hired Roseanne Chichester as its on-staff radiation therapist. In this role, Chichester will administer non-invasive skin cancer treatment in the office using the new superficial radiation therapy (SRT) machine.
Chichester brings more than 20 years experience to Dermatology Alliance-Keller and is a state licensed radiation therapist certified by the American Registry for Radiologic Technologists since 1992. She received an associate degree of applied science, radiation therapy from the Community College of Denver. During the past several years, Chichester has held positions at Medical City Hospital in Dallas and Lakepointe Cancer Center in Rowlett. In addition, she is experienced with a variety of radiation equipment, including Varian linear accelerators, Varian 2100 IX with portal vision, and Varian Trilogy with many image guided therapies.
According to R. Todd Plott, M.D., a board certified dermatologist and founder of Dermatology Alliance-Keller, radiation treatment of skin cancer has improved dramatically and can now be used safely and achieve better results.
"We've known for many years that skin cancer is treatable with radiation, but the radiation was too strong and poorly controlled. With the advances in electronics and medicine, we can now precisely control low energy X-rays with limited penetration to the skin so that unwanted side effects on underlying tissue are minimized," explains Dr. Plott, noting Dermatology Alliance-Keller is the first dermatology practice in Fort Worth to offer the non-surgical skin cancer treatment. "This new machine should reduce the need for skin cancer surgeries in some patients and we're thrilled to have someone with Roseanne's expertise join the practice."
The SRT-100 machine offers patients a safe skin cancer treatment alternative to surgery that, until now, has not been widely available. The SRT machine can be safely used to treat non-melanoma skin cancer, including basal cell and squamous cell carcinomas, on the face and other areas of the body. SRT is a low energy radiotherapy that goes no deeper than the thickness of the skin. It is a proven non-invasive procedure that has been used to treat non-melanoma skin cancer for over 50 years and is highly recognized and reimbursable by most insurance companies. Because the superficial x-rays concentrate radiation dose on the skin surface, the treatment has several advantages over surgical procedures:

Virtually painless
Very short procedure time
Heightened safety
No anesthesia requirement
Minimal to no scarring
Virtually no post-surgical infections
Lesser chance for recurrence
Faster healing process
Virtually no need for reconstruction after procedure
"Dermatology Alliance-Keller and Southlake Dermatology treat approximately 1,200 skin cancer case a year, so we expect this new treatment to be of tremendous health value to our patients. Most importantly, the SRT-100 has a high cure rate."
For more information about non-surgical skin cancer treatment in Dallas Fort Worth, go to http://www.dermatologyalliancekeller.com or call 817-431-6555.