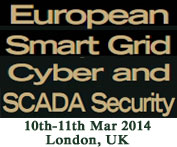 London, UK (PRWEB UK) 25 October 2013
SMi Group proudly presents its 4th annual European Smart Grid Cyber and SCADA Security conference, taking place in London, on the 10th-11th of March 2014. Registration for the event is now open.
The event now in its 4th year delivers the latest developments on how Utilities from the US and Europe are dealing with persistent threats and vulnerabilities. Attendees will receive insight into present & future SCADA & Smart Grid technologies, security risks surrounding Electricity and Water infrastructures.
The event agenda includes presentations covering the European Governments "Minimum Security measures for Smart Grids", hostile behaviour aimed at the Smart Grid and how it can be detected early, new approaches to predictive forecasting models and process monitoring, cost of security and how to measure ROI from industry leaders such as Waternet, Scottish and Southern Energy, Maersk Oil Qatar, Transmission Security Corporation, California Water and Power Company, Viasat and many others.
The event will be followed by interactive workshop, "Data analytics and predictive models for ICS/SCADA cyber security", hosted by Dr. Damiano Bolzoni, COO, Security Matters.
Keynote speakers include:

Edward Hamilton, Head of Threat and Vulnerability Management, Price Waterhouse Coopers
Konstantinos Moulinos, Expert in Network & Information Security, ENISA - European Network and Information Security Agency
Henrik Magnusson, Technical Strategy Manager for the Future Networks team, SSE
Brett Luedde, Director Critical Infrastructure Security, Secure Network Systems, Viasat Inc
Johan Rambi, Privacy & Security Officer, Alliander N.V.
Rob van Bekkum, Program Manager, ENCS
Rudolf Baumann, Chairman of the Transmission Security Cooperation, Senior Advisor Operations, swissgrid
Steve Brunasso, Manager of Security and Networking, California Water and Power Company
Daniela Pestonesi, Automation and Diagnostics, Enel Engineering & Research SpA
Philip Westbroek, Telecommunications and security advisor, Enexis
Mauriche Kroos, Security Officer, Enexis
Martin Visser, Security Officer Process Automation, Waternet
Frank Hyldmar, Vice President, ESMIG
Claudio Lo Cicero, Head of Global Information Security, Maersk Oil Qatar A S
Bob Lockhart, Research Director, Navigant Research
Rick Welsh, Head of Cyber Insurance at Aegis at Lloyds, Aegis London
Galen Rasche, Technical Executive, Electric Power Research Institute
For more information about this event and how to register, contact Mohammed Malik on +44 (0) 20 7827 6166 or email mmalik (at) smi-online (dot) co (dot) uk.
For sponsorship opportunities contact Sadia Malick, Director, via smalick (at) smi-online (dot) co (dot) uk or call +44 (0) 207 827 6748.
Event's website: http://www.smi-online.co.uk/2014cybergrids6.asp
Contact for media-partners: Julia Rotar, jrotar (at) smi-online (dot) co (dot) uk, +44 (0) 20 7827 6088.