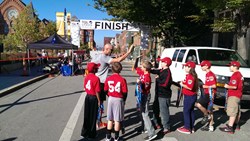 Greater Cincinnati is our hometown and it our responsibility to give back.
Cincinnati, Ohio (PRWEB) October 25, 2013
Proceeds from the 1,200 people who registered to take part in Cincinnati's first downtown obstacle course race, the TQL Urban Race, will be presented today to representatives from the Marvin Lewis Community Fund and the Reds Community Fund during a celebration at Total Quality Logistics' Union Township headquarters.
A check for $22,162 will be presented to assist the non-profits in their respective missions: empowering, educating and inspiring youth in the Greater Cincinnati region through ongoing outreach programs, and; creating programs that connect at-risk children with baseball, while creating fundraising programs that connect baseball with the community.
"We were delighted to be one of the beneficiaries of this awesome event," said Executive Director of the Marvin Lewis Community Fund, Barbara Dundee. "Everyone we talked to on the day of the race, both sponsors and participants, were really impressed."
"The Reds Community Fund was honored to be a part of the inaugural TQL Urban race and thoroughly enjoyed being a part of this new downtown Cincinnati tradition. The Community Fund's Greater Cincinnati RBI (Reviving Baseball in Inner Cities) was a perfect fit, as the kids and coaches were thrilled to greet race participants at the finish line and serve as a visible connection to the community," said Executive Director of the Reds Community Fund, Charley Frank.
Today's celebration and check presentation wrap up the Cincinnati freight brokerage's first foray into the Cincinnati racing community.
"Greater Cincinnati is our hometown and it is our responsibility to give back. The TQL Urban Race allowed us to do so in a very unique and exciting way that brought together our employees, other great Cincinnati companies, and hundreds of members of the community who either raced or volunteered," said TQL Marketing Director, Jo Wehage.
"It also was an event that uniquely showcased the core energy and personality of TQL. We love competition and camaraderie. We love to tackle challenges and aren't afraid to work hard to achieve great results. That's what we wanted our racers to feel when they crossed the finish line."
Runners of the race concurred, including Cincinnati Bengals player's wives who took part in the event.
"The TQL Urban race was a great way to build friendships and bond while climbing the obstacles and pushing yourself to the limit. I am proud to say I kicked asphalt," said Jessica Harris, wife of long snapper, Clark Harris.
"Our excitement from the race still continues to today. It outlasted our soreness if you can believe it," said Hagar Elgendy, fiancée of running back Cedric Peerman. "Any chance we have to support the Marvin Lewis Fund, represent the Bengals organization and put on our running shoes – we will gladly do so!"
The TQL Urban Race was an approximately 3.5 mile race through the streets of downtown. Along the way, runners faced 12 different obstacles including running up the stairs at Paul Brown Stadium, running a city block while carrying an orange traffic barrel, and climbing over piles of junkyard cars.
Top finishers in the TQL Urban Race included:

Men's Division: Michael Perry, Cincinnati, Oh
Women's Division: Alexis Rosenbaum, Maineville, Oh
Team Division: Team Chum Bucket – Kevin Egan, Doug Portmann, Larry Deem, and Jason Reynolds, Loveland, Oh
Full race results are available on the race web site at http://www.tqlurbanrace.com. Photos from the race are available on Facebook at http://www.facebook.com/tqlurbanrace.
TQL partnered with The Flying Pig Marathon and AGAR, a downtown Cincinnati creative agency, to plan, produce and execute this first year race.
"Both of these organizations added invaluable expertise to help our company create an outstanding race day experience for our runners and a memorable community event," said Wehage.
About Total Quality Logistics
Total Quality Logistics (TQL) is the second largest freight brokerage company in the nation, with more than $1.3 billion in annual sales. The company, founded in 1997, is privately-held and headquartered in Cincinnati, Ohio, with 20 additional satellite locations across the nation. TQL was ranked among the nation's 150 Top Workplaces in 2013 in one of the largest-ever surveys of U.S. companies, with more than 1 million employees participating nationwide. TQL also was named by Inc. Magazine as a leading company for creating American jobs and by Glassdoor as one of the top companies for career opportunities. TQL employs more than 2,000 nationwide. Learn more at http://www.tql.com.
About The Flying Pig Marathon
Celebrating its 15th running in 2013, the Flying Pig Marathon is the 17th largest running festival held annually on the first Sunday in May. It currently draws 33,000+ participants from all 50 states and more than a dozen countries. The mission of the Cincinnati Marathon is to provide a premier event open to athletes of all abilities. It is dedicated to supporting charities and the event should inspire community celebration and reward the emotions of all participants, sponsors, volunteer and spectators. For more information, go to http://www.flyingpigmarathon.com.
About AGAR
Agar creates desire through social intelligence. Agar is on the pulse of popular culture and in the trenches where relevancy meets real. We create immersive experiences. We take an authentic and holistic approach to consumer and brand relationships. Through our multiple interactive and engaging touch-points we unite brands with their audience and the audience with their brand. Learn more at http://theagar.com/ or @AGARAgency