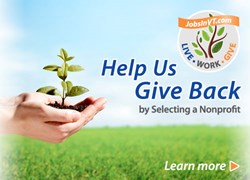 "Janice's gift will truly make a difference for generations of Vermonters,"
Burlington, VT (PRWEB) October 29, 2013
The VT Live Work Give campaign contest allows both individuals and employers to enter and, if chosen in a quarterly drawing, each of the two winners can select one Vermont nonprofit charity to be the recipient of a $500 donation from JobsInVT.com. Contestants can enter once at any time during the contest and will be considered for each drawing thereafter. At the end of the contest, in February 2014, JobsInVT.com will double their donations when they pick a final job seeker and a final employer to select the two final nonprofit recipients, and each nonprofit will receive a $1,000 donation. See contest rules for details.
Donna Russo was randomly selected this month in the in the JobsInVT.com Live Work Give contest, to have $500 donated, in her name, to her charity of choice. She was ecstatic to name Family Center of Washington County to receive the donation.
"I am thrilled my donation will go to the Washington County Family Center. The impact of this organization to the community is enormous, but not well known. Well qualified and dedicated staff provide a host of programs from child care to parent education and coaching, and resources for intervention and prevention. "
The Family Center of Washington County provides a diverse array of services to generations of local children and families serving more than 4,200 people per year in Central Vermont.
For more information, please go to http://www.fcwcvt.org/
Janice Davis chose her employer of 13 years, Gifford Medical Center to receive her donation - specifically to help fund the new Senior Living Community in Randolph Center.
"I am a big advocate of the Senior Living Center, as my parents both live in the community and have most of their lives. I would want to keep them close to home if the time comes that they need full-time or assisted care, rather than sending them a minimum of 30 minutes away from their home. I've seen how hard this can be on nursing home residents and their families as well, "said Davis.
"Janice's gift will truly make a difference for generations of Vermonters," said Gifford Development Director Ashley Lincoln, "including those benefiting directly from the care and housing we will provide, as well as those younger generations who will be able to visit their loved one without driving great distances (often in difficult weather and over difficult terrain)."
For more information, please go to http://www.giffordmed.org/
About JobsInVT
JobsInVT.com, Vermont's #1 employment resource, has been connecting job seekers and employers to fill real, local, quality jobs within the state of Vermont since February 2003. What initially began as a free service to employers, JobsInVT.com built a steady flow of job seeker traffic and today sees over 34,000 unique visitors per month, lists more than 1,000 real, local Vermont jobs and hosts more than 500 Vermont company profiles on their website. Vermont Employers who wish to post an unlimited number of jobs can do so by subscribing to the service for a flat fee, and nonprofits who wish to post their volunteer positions and a company profile can do so for free. JobsInVT.com works with every type of employer from all regions of the state who wish to post jobs located within Vermont.
For more information on JobsInVT.com's 10 Year Anniversary Celebration, the VT: Live Work Give campaign or JobsInVT.com in general, please contact Tom Hinman, Director of Sales and Marketing at 1-877-374-1088 x2073 or thinman(at)jobsintheus(dot)com.
-JobsInVT.com