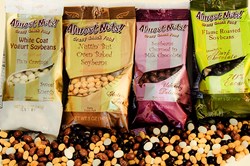 Denmark, WI (PRWEB) October 26, 2013
Halloween is quickly approaching and while children are preparing their spookiest costumes yet, parents are stocking up on sweet and sour candies. But instead of passing out handfuls of sweets, the folks at Almost Nuts! are asking anyone celebrating this year to opt for a healthier alternative—chocolate and yogurt covered soy nuts.
Inviting parents to hand out a healthier snack to trick-or-treaters this year, current owner of Almost Nuts! Darren Kornowske wants to get the word out on the company's array of roasted, sweetly-coated soy nuts—including classic Oven Baked, yummy Milk Chocolate, sweet Yogurt and savory Dark Chocolate—that will help keep kids excited about eating healthy this holiday season. Instead of indulging in candy—which is often high in sugar, fat and calories that can all lead to health problems later in life—gruesome ghouls, pretty princesses and strapping superheroes can munch on Almost Nuts! Crazy Snack Food that are just as tasty as typical Halloween goodies.
Soybeans have long been touted for bettering the health of those who ingest them in an era when childhood diabetes and obesity are on the rise. After years of research, these beans have been proven to decrease cholesterol, increase energy and ease stress on a number of vital organs. And on top of that, Almost Nuts! snacks are non-GMO, meaning parents can rest easy knowing their children aren't eating something created in a lab, reducing their risk for potential health problems down the line while still allowing them to enjoy their Halloween treats.
Almost Nuts! is the health conscious choice for trick-or-treaters and anyone looking to make this holiday a little easier on their waistlines. Not only are the beans picked and roasted at the peak of freshness, but with whole grain fiber in every bite, these tantalizingly sweet, crunchy and nutritious soybean snacks prove to be a top choice for everyone, leaving the sweet tooth of both kids and adults satisfied during this scariest of holidays.