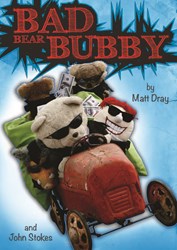 Minneapolis, MN (PRWEB) October 27, 2013
What would you do if you found a bunch of old plush toys lying in a landfill? Most sane people would leave them there. Fortunately, one bulldozer driver didn't and instead created a full color, tongue-in-cheek, picture e-book salute to Quentin Tarantino's 1992 break out film, Reservoir Dogs, starring the menagerie of cuddly animals he "rescued" from the trash pile.
Bad Bear Bubby is a quirky pop-culture parody for grown-ups and growing-ups about a down-on-his-luck teddy bear, who teams up with a Jack Nicholson-like hog, a flamboyant Humpty Dumpty and two killer koalas and becomes one of the country's most wanted bank robbers.
The absurd humor, cleverly underplayed with a wry fairy tale style narration, gently ramps up as the gang enjoys life in the fast lane.
Bubby, however, soon tires of being constantly on the run, unaware that his colleagues are just as jaded. With everyone fearing what everyone else will think if any of them admit how they truly feel, the gang continues on its criminal merry way, until the law catches up with them.
Bubby's only ray of hope is a serial online dating girl bear, called Missy. Add to the mix a Don King-ish lawyer, some genuinely hilarious photo-illustrations and more donuts than you could poke a stick at and anyone could be excused for thinking Bad Bear Bubby is purely for laughs.
The idea that a violent cult film could be the inspiration for a sublime little story, which promotes the concept of self-acceptance and the acceptance of others being intertwined, may sound farfetched, but that's just what Bad Bear Bubby is; a gentle reminder about the true key to happiness.