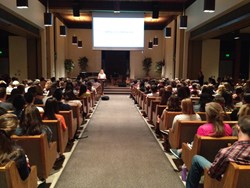 Minneapolis, MN (PRWEB) October 26, 2013
On November 5th, from 7:30-9:00pm, Thrive, Christians for Biblical Equality's (CBE) chapter on Biola University's campus, is co-sponsoring a chapel with the Philosophy Department featuring Alan Padgett entitled: "Jesus, Leadership and Mutual Submission."
Dr. Padgett is a visiting research fellow in Biola's Center for Christian Thought and is focusing on the relationship between cognitive science of religion and the psychology of prayer. Amidst his multiple publications on faith and reason, he has also published important scholarship in his book As Christ Submits to the Church: A Biblical Understanding of Leadership and Mutual Submission. Dr. Padgett is professor of systematic theology at Luther Seminary in St. Paul, Minnesota.
Thrive seeks to affirm the Scriptural basis for the shared authority of males and females, and this lecture will play a critical role in establishing this viewpoint, laying a foundation for future lectures and discussions.
Thrive is one of CBE's newest chapters. It is located on the campus of Biola University in La Mirada, California.
In its effort to advance a biblical foundation for gift-based rather than gender-based service, CBE sponsors annual conferences, facilitates local chapters, hosts an online book service, and publishes two award-winning journals. For more information, visit http://www.cbeinternational.org.