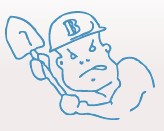 Bensalem, Pa. (PRWEB) October 26, 2013
Bencardino Excavating has begun work on an expansion project of Temple University's research building at 12th and Norris Streets in North Philadelphia. The project includes the excavation and installation of steam and chilled water lines and of a new manhole for access to underground infrastructure systems. The work is expected to take about five weeks, with several Bencardino crew members on the job site.
"We are happy to be back at Temple University and to continue working with A.T. Chadwick, which is always a great opportunity," said Louis Bencardino, owner of Bencardino Excavating. "My crew and I are always eager to work with our local universities and colleges, since they are an active and vital part of the Philadelphia region."
Temple University was chartered in 1888 as The Temple College and now enrolls more than 35,000 students at several locations in the Delaware Valley, Harrisburg, Japan and Rome. Its Philadelphia campus has expanded over the years to include Temple University School of Medicine, Temple University Beasley School of Law, and Temple University Hospital which encompasses more than 10 square blocks along North Broad Street.
Bencardino Excavating is committed to delivering the highest level of performance and quality to its clients. Louis A. Bencardino is a highly skilled excavation and site work contractor who employs an experienced team of project managers, foremen, construction professionals and craftspeople. The full-service excavation company specializes in complete site work services including construction, excavation, electrical, demolition, asphalt paving and final finish work.
Bencardino Excavating was founded in 1988 by Lou Bencardino, and serves clients in Southeastern Pennsylvania and New Jersey including Bucks, Montgomery, Philadelphia, Chester, Delaware, Camden, Mercer and Gloucester Counties. Bencardino Excavating has worked with airports, helipads, schools, banks, corporate facilities and more in a wide array of industries including commercial and residential development, pharmaceutical, chemical, biotechnology, utilities, education and retail. Among its clients are Bovis Lend Lease, T.N. Ward Company, Turner Construction Company, Daniel J. Keating, Harkins Builders, H.B. Frazer Company, Emory Hill and Company, A.T. Chadwick Company, Carr & Duff, Inc., Scungio Borst, St. Joseph's University, Temple University, Philadelphia University, Princeton University, PennDOT, Keating Building and Merck. For more information, visit http://www.bencardino.com, call (215) 244-6000 or visit us on Facebook at facebook.com/BencardinoExcavating.