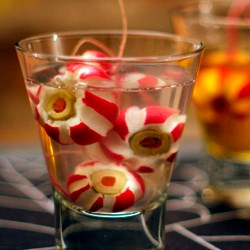 Cambridge, MA (PRWEB) October 28, 2013
Ghouls, goblins, and ghosts of all ages will be spooked by the new Halloween party ideas featured at Cook123.com, which released a witches' brew of easy, fun, and frightfully good Halloween party recipes for kids and adults.
Each of the party treats takes no more than 20 minutes to create and often feature only a handful of ingredients.
Unnerve your hungry guests with delicious, edible spiders crawling on deviled eggs or a gruesome display of sweet and salty wicked witch fingers made with pretzel rods. Carrot hands reaching out from a bowl of hummus and a treasure chest filled with marshmallow pretzel bones will also be sure to please, unless you're easily horrified, that is.
And for adults who also want some Halloween fun, there's a seriously scary drink called the Alien Eyeball Martini, which features pimento-stuffed olives wrapped in radishes. This drink is so dirty - it's practically six feet under!
Look for more creative recipe ideas from Cook123.com as we continue to grow our library of seasonal and year-round video content and recipes with fresh takes on traditional ideas.
About Cook123.com:
Cook123 is owned and operated by Media Program Network, Inc., a privately held content company created by media and Internet professionals, including veterans of the newspaper business and founders of The Food Network & Wine TV. With roots in Cambridge and MIT, Cook123 uses the best of high-end tech talent and analytics to create a personalized user experience. They have over 100,000 recipes and 1,000 broadcast-quality videos that reflect above all healthy and delicious food using today's culinary criteria such as local ingredients and sustainable farming techniques.