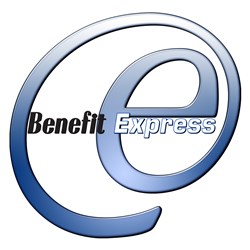 The new Schaumburg location, allows for more employees which means we have even better equipped departments and teams dedicated to serving our clients.
Schaumburg, IL (PRWEB) October 29, 2013
Benefit Express Services, LLC, a leader in providing benefits administration outsourcing services and online benefits enrollment for large, medium and small organizations, celebrated its one year anniversary at its headquarters at 1700 E. Golf Road in Schaumburg, IL. Moving to the 21,295 square foot 10th floor of the Two Century Centre building, Benefit Express has been able to grow in more ways than one.
The state-of-the art facility is centrally located to Chicago and O'Hare Airport, allowing for convenient prospect and client meetings. "With the move, we were ultimately able to increase our client base," commented Maria Bradley, President and Founder of Benefit Express. "It is an exciting time for Benefit Express and many clients and prospects have been able to join in the excitement." Since the move to the new building, the company has seen an increase in on-site meetings with clients and prospects as well as an increase in prospective employees. "The new Schaumburg location allows for more employees which means we have even better equipped departments and teams dedicated to serving our clients. Benefit Express' employee head count has increased by over 15% since the move."
The new location is a fully equipped office building complete with a fitness center and restaurant. Employees also enjoy the convenience of being located directly across from Woodfield Mall. Benefit Express will have its company signage atop the high rise building by the end of 2013, which will face interstates 90 and 290, allowing for excellent exposure to the high amounts of interstate traffic on a daily basis.
"The increased square footage has provided Benefit Express with an excellent and highly efficient workspace as well as a comfortable and accommodating space to meet with clients. This includes more conference rooms, a bigger break room for our employees, and an organized layout that allows for collaboration between teams and a more effective work flow. The large office space provides excellent opportunities for teams and departments to easily meet, work together, and discuss projects for our clients," commented Monica Hinchey, Vice President of Client Relations and Business Alliance Manager.
About Benefit Express
At Benefit Express, the focus is on flexible benefits administration outsourcing solutions, online benefits enrollment, and HR outsourcing. Their self-service platform - My Benefit Express - delivers tools which help clients efficiently manage HR & online benefits administration. With My Benefit Express clients have direct access to: customized content delivery, online enrollment assistance, employee benefit education tools, transactional administrative processing/tracking, carrier bill reconciliation, vendor data-links and detailed HR reporting. Benefit Express' benefits administration solutions provide the flexibility for clients to choose how, where and by whom work gets done.