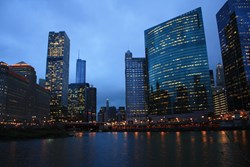 Retailers are dealing with unprecedented technology disruption, but the legacy systems are just too expensive to replace.
Chicago, Ill. (PRWEB) October 28, 2013
UniteU, creator of UniteU Commerce™, an omnichannel platform for retailers, has announced it will be sponsoring and exhibiting at the RAMP Advanced Commerce & Mobile Retail Services Summit in Chicago Oct. 28-30, as well as hosting an evening event during the week. The three-day conference includes 65 presenters and brings together nearly a thousand top-level retail, hospitality and industry executives.
Hot topics at this year's conference are the tsunami impact of mobile in redefining the retail experience, along with the challenges of providing more cohesiveness and unity across growing channel complexity.
"Retailers are dealing with unprecedented technology disruption, but the legacy systems are just too expensive to replace," said Michael Montrose, Vice President of Sales and Marketing. "This is causing an operational nightmare as more and more point solutions are thrown into the mix to try and keep pace."
The UniteU Commerce platform has evolved over the last decade to become a seamless omnichannel bolt-on, says Montrose. "Once connected the platform drives growth and rich content experiences across all aspects of web, mobile and in-store digital." Features and solutions available off the platform include ecommerce, mcommerce, hybrid responsive design, showrooming solutions, enterprise-wide inventory visibility, endless aisle and a new cloud-connected mobile point-of-sale solution called uMobile POS™.
Others scheduled to speak at next week's conference represent companies such as Costco, Jet Blue Airways, Walgreens, Crate & Barrel, Brooks Brothers and Staples.
UniteU's clients include more than 200 retailers and brands from all segments, including apparel and fashion, sporting goods, health and wellness, housewares and home furnishings, and specialty retail.
"We're excited to collaborate with our fellow conference attendees, and to share our expertise and latest insights," Montrose said.
The company is also hosting an exclusive networking event Monday evening for retailers, UniteU partners and invited guests. The invitation-only event is a speakeasy-style party at a popular downtown Chicago lounge.
About UniteU Technologies (http://www.uniteu.com/):
UniteU creates technology that allows retailers to provide a unified commerce experiences across channels and devices. UniteU offers a wide range of solutions and services including uMobile POS™ and UniteU Commerce™, a powerful commerce platform that embodies more than a decade of omnichannel insights and high-volume experience. Superior technology and performance has resulted in an impressive client list that includes Pharmaca, Joes Jeans, Edwin Watts Golf, City Sports and the world champion Miami Heat.