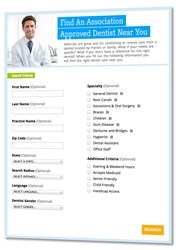 "We've found that people want to go to someone that they trust, someone that they've had a chance to check out beforehand." -Sam Dyer, Healthygrid LLC
Portland, OR (PRWEB) November 14, 2013
Healthygrid LLC released details about the tools they offer dentists to reach new patients online through The Dental Optimizer. Patients will benefit as well since this same program allows them to find the best dentist near them.
"Many dentists are looking to expand their patient base," says Sam Dyer of Healthygrid, "and they'd like to do so with a little credibility and, frankly, save a little money." Dyer explains that patients are often put off by flashy advertisements and initial "teaser" offers that might not disclose all of the charges. "We've found that people want to go to someone that they trust, someone that they've had a chance to check out beforehand."
The Dental Optimizer features several applications that connect patients to dentists before they've even met. The Best Dentist Finder uses robust search criteria to drive convenience for patients and loyalty for dentists: it finds the most appropriate dentist closest to the patient's home or work. Using Dental Optimizers assessment tools patients can submit information prior to their first visit about their age, brushing habits, dental history, current dental problems, and other factors that can help a dentist provide the possible care the minute the patient steps foot in their practice.
When dentists sign up for their Dental Optimizer profile they are asked to contribute as much information as possible about their practice including hours, specialties, and experience. When a patient is ready to make an appointment The Dental Optimizer will recommend the nearest provider from the pool of dentists offering the services needed based on that patient's profile. The patient profiles also help the dentists with preliminary information about their new patient.
One of the biggest roadblocks keeping people from seeking dental care is the fear of the cost. "People are hesitant and we can't necessarily blame them," says Dyer. "Everyone hears stories about going for a cleaning and exam and then it's $600. Well, we can't speak for every dental professional but we can help get information to patients. It's probably going to cost less than they think." The Dental Optimizer features a cost calculator that allows patients to get an idea of the costs before they go into their appointment. The Cost-calculator is customizable so individual dentists can control the estimates going out to the patients.
Healthygrid and The Dental Optimizer attract potential patients by using search engine optimization. When someone is searching for information about their dental problems or simply looking to find a good dentist in their area, they are led to The Dental Optimizer where they have several options to find the help they need. The ask-a-dentist tool has been helpful to patients when they need to know something quickly. They simply submit a question about their teeth and a dentist will answer the question. This tool helps dentists as well since it offers them an opportunity to dialogue with people who likely need their services.
Dentists also receive the benefit from being listed on the Dental Optimizer's Best-in-Class Dental Directory and they have the ability to create Dental Deals. Dental Deals are groupon-like offers that make it easier for potential patients to try a new dentist and then likely stay with them.
Dentists can take advantage of these new tools without cost at http://www.dentaloptimizer.com.