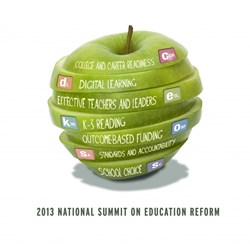 It's illuminating to hear from leading voices in education reform like Patricia and John.
(PRWEB) October 28, 2013
Patricia Levesque, CEO of the Foundation for Excellence in Education, and John Bailey, Executive Director of Digital Learning Now!, chat education reform and a host of other pressing education issues in two new podcasts. The podcast for Patricia Levesque and the podcast for John Bailey both offer valuable insights into the current and future state of American education reform at a time of radical policy change.
During the National Education Summit Dr. Berger sat down with thought leaders to discuss reform, technology, the power of parents, and more. The conference brought together leading voices in education including former Florida Governor Jeb Bush, Former U.S. Solicitor General Theodore B. Olson, Former Secretary of State Dr. Condoleezza Rice, and Chicago Mayor Rahm Emanuel, along with others.
The Foundation for Excellence in Education is a not-for-profit organization dedicated to fostering excellence in education across America. CEO Patricia Levesque speaks to all things education reform, the history of this bipartisan event, and the Parent Trigger Bill. She also takes the Core in-depth on the implications of education reform.
Digital Learning Now! is an initiative of the Foundation for Excellence in Education. They lead a national campaign to advance policies that will create a high quality digital learning environment to better prepare students with the knowledge and skills to succeed in college and careers. Executive Director John Bailey discusses his work in education technology including his time inside the White House. He also shares his thoughts on the role education technology plays on greater reform initiatives.
"It's illuminating to hear from leading voices in education reform like Patricia and John," said Dr. Berger. He added, "I'm optimistic for the future of education and deeply interested in the ongoing conversation."
Find out more about the Foundation for Excellence in Education here.
---
About Core of Education
The Core of Education is an op-ed blog and podcast interview series hosted by Rod Berger, PsyD, and underwritten by RANDA Solutions. The Core focuses on vital issues to educators and policy-makers, as Dr. Berger interviews key education thought-leaders from across the nation and around the world. Core podcasts work to provide a platform for open, honest discussion and debate on education challenges and triumphs. Berger, interviews international policy makers, ed entrepreneurs, state commissioners, district admins, and teachers and strives to insure everyone involved has a platform to learn, and that's what's at the "core of education."