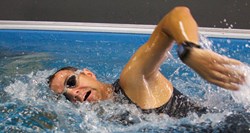 The venue allows you to race as hard as you like while adding a social element you just can't get in an outdoor race.
Rogers, AR (PRWEB) October 25, 2013
Faced with the prospect of cancellation, event organizers from GPP Endurance moved the 4th annual Memory Maker Triathlon indoors this year, thinking outside the box to continue raising money and awareness for Alzheimer's research.
After flooding knocked a local pool out of commission, GPP's management team quickly brainstormed an alternative—an indoor triathlon to make use of their two Endless Pools.
The triathlon event, held from October 11-12, raised around $1,500.
In addition to Endless Pool swimming, GPP employed computrainers and treadmills to complete the race. With a true open water feel and no flip turns, the Endless Pools were adjusted to the desired pace of each athlete.
"The venue allows you to race as hard as you like while adding a social element you just can't get in an outdoor race," said Mark Mohler, Instructor and Multisport Coach at GPP.
Benefitting the Alzheimer's Association, the Memory Maker Triathlon was started by triathlete Brad Pope, after his grandmother passed away from the disease.
The first participant in the men's event, Pope set the early standard at 1:22:34 before the final competitor, Chris Risk took the crown, finishing at 1:21:18.
Mandy Ozimek took first place in the women's division, clocking in at 1:51:35, just 15 seconds faster than Pauline Mohler.
An officially sanctioned USA Triathlon event, the GPP Endurance team did their part to keep the race running without a hitch. Based on their success, they're now discussing a winter triathlon series to continue to take advantage of their indoor pool setup.
For daily training or an indoor triathlon, GPP's Endless Pools pass the test.
"The Endless Pools have greatly enhanced our ability to speed up form and technique changes in our swimmers and triathletes," said Mohler. "We estimate we can make changes in a single hour session that would normally take us four to six sessions in a standard pool."
"We can't imagine training without them."
ABOUT ENDLESS POOLS:
Endless Pools, established in 1988, has served over 20,000 customers in over 80 countries, and offers compact, customizable above ground, partially inground or fully inground pools. With a series of six innovative products and an adjustable, revolutionary swim current, the product can be tailored for exercise, competitive training, or family fun. Rigorously tested for safety, low-maintenance and environmentally friendly, Endless Pools has a product to meet virtually any need.
For more information about Endless Pools, contact Rob Shaeffer at 610-497-8676.
For more information about the Alzheimer's Association, visit http://www.alz.org/ and for more information about the Memory Maker Triathlon, visit http://www.memorymakertriathlon.com/.