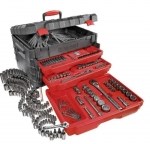 This is one of the most complete sets out there, and Exchange USA is proud to offer such a product from a name like Craftsman.
Hampton, VA (PRWEB) October 26, 2013
Military men and women are perpetually tasked with getting the job done, whether it be on the job, out in the civilian world, or at home with the family. Exchange USA is proud to now offer yet another great way to help: quality power tools and high-end tool sets. These new additions to their full line of lifestyle products can be found through the company website or at their storefront location in Hampton, VA.
This is the second in a three-part release concerning these new products. Here, Exchange USA is unveiling an amazing 255 piece Craftsman Handyman tool set with lift top storage chest. This is one of the most complete sets out there, and Exchange USA is proud to offer such a product from a name like Craftsman. Please visit the product page on the Exchange USA website for a full description of the contents.
Offering the active duty military community fair financing terms on lifestyle purchases that may otherwise become a financial burden is an honor for Exchange USA. Providing those who defend our freedoms an opportunity to have a few of the finer things in life is one of the company's highest priorities, and the goal at all times is to provide the best of the best in top name brand home electronics, home furnishings, car accessories and performance parts, rims, truck lift kits, jewelry, appliances, scooters, musical instruments, fitness equipment, and wireless devices.
Terms are offered on loans for military personnel, which are available to all active duty servicepersons regardless of rank, pay grade, or credit standing. Active duty personnel with good credit, bad credit, or no credit are all equally eligible to apply. If granted, there is no interest for the first 90 days, and the rates thereafter are kept low. Applications are always available online, and approval of up to $10,000 is instant in some cases.
Exchange USA is located in the historic downtown Phoebus section of Hampton, Virginia. Centrally located in the military hotbed of Hampton Roads, Exchange USA serves the active duty communities in Naval Station Norfolk, NAS Oceana, NASA/Langley AFB, Yorktown NWS, Norfolk Naval Shipyard in Portsmouth, TSC Hampton Roads at Dam Neck, and NAB Little Creek. Additionally, with a strong online presence, Exchange USA is able to serve our fighting men and women anywhere in the world.
Contact Exchange USA with Military Loan Inquiries at
118 East Mellen St.
Hampton, VA 23663
888-998-9974
myexchangestore.com