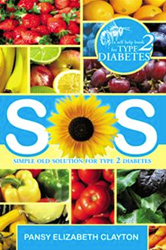 "The absolute truth is that we all need to think and talk about the ways to prevent disease, live healthier lifestyles and keep good health on our minds all the time," says Clayton.
Charleston, SC (PRWEB) October 27, 2013
Author Pansy Clayton is a simple southern woman who has taken control of her type 2 diabetes and seeks to inspire others to do the same.
In her new book, "SOS: Simple Old Solution for Type 2 Diabetes", Clayton reveals the last 10 years of her life since being diagnosed. Readers will catch a glimpse into her successful diet of fruits, vegetables, and small amounts of meat. With the increasing amount of cases of diabetes in the US, Clayton hopes to lead individuals to a healthier lifestyle and prevent the organ and limb damage that many of type 2 diabetes patients suffer.
Along with diet and health advice, SOS: Simple Old Solution for Type 2 Diabetes provides personal success stories to educate readers about the disease and how to prevent the detrimental effects it can cause.