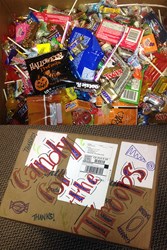 (PRWEB) October 28, 2013
Julian Thomas DMD PA is hosting a third annual Halloween Candy Buyback event. Kids can bring their candy in and exchange it for $1 per pound, coupons, toothbrushes, or other prizes. Collected sweets will fill care packages and be sent to our troops stationed overseas.
Last year, Dr. Thomas' office collected over 30 pounds of candy.
For the candy that does get eaten, Dr. Thomas shares, "Candies you can chew and finish quickly are better than sticky candies that sit in your mouth a long time. Choose sugar free sweets when you can. Always brush soon or at least rinse afterwards."
Candy will be received Nov 4th through Nov 7th 8am-5pm at 1141 E Butler Rd, Greenville, SC 29607. Cash payments are limited to 5 pounds per child. Candy will be sent to troops on Nov 11th.
About Julian Thomas DMD PA
Dr. Thomas is a top rated dentist in Greenville SC specializing in cosmetic and family dentistry since 1996. He is a previous Navy dentist, past Rotary club president, and current Rotarian. Dr. Thomas is a member of the American Dental Association, the South Carolina Dental Association, and The American Association of Operative Dentistry.
For more information on Dr. Julian Thomas or cosmetic dentistry in Greenville call 864-676-0046 or by email with any questions.
http://www.julianthomasdmd.com