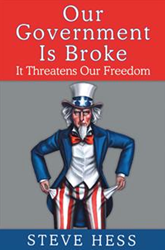 "This is a book that simply and clearly shows the severity of our federal government's financial problems, and their horrible affect on our economy. The book explains how the problems can be fixed, but we need to start working on it now," Hess said.
Little Rock, AR (PRWEB) October 27, 2013
Former financial executive Steve Hess offers his two cents on the financial crisis in his book "Our Government is Broke: It Threatens Our Freedom".
In his quest to educate Americans about the financial crisis, "Our Government is Broke: It Threatens Our Freedom" not only covers how the nation got into a financial crisis, but also suggests ways to repair the damage. After many years of experience in corporate finance, Hess suggests that the government utilize the same techniques that corporate America uses to manage finances.
The book also provides information about politicians who are proactive about financial reform and how US citizens can contact their own elected officials to encourage them to take action. His hope is that the average US citizen will become more aware of the nation's financial predicament and the bold moves that need to be taken.