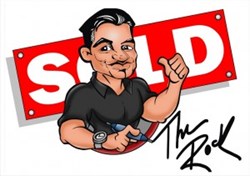 Los Angeles, CA (PRWEB) October 29, 2013
Team Rock Properties, a leading real estate agency serving the Glendale, Burbank and La Canada markets, today announced that it is expanding its business operations to accommodate growing demand for its services. Team Rock's growth is predicated on Proprietor and Lead Agent Jerry Armen's record- shattering sales numbers, as well as the uniquely personal approach he brings to the agency's sales and marketing activities.
With 13 years of experience, more than $350 million in residential sales, and over 500 homes listed and sold, Jerry Armen is a top-producing agent in listings, transactions and volume, and Team Rock Properties' headcount continues to grow to meet the needs of an ever-increasing number of new clients – many of whom are referred by outside agencies that recognize and respect Armen's exceptional sales performance statistics.
Under Jerry Armen's leadership, Team Rock Properties does all it can to ensure that each of their customers benefits from a quick and profitable sales process, leading to his career average sales cycle being less than 17 days from quoting the suggested listing price to closing the sale. Team Rock's techniques are so effective that Armen has sold twelve homes in 2013 without the use of Multiple Listing Services.
Team Rock Properties has quickly become renowned for going the extra mile for its clients; Armen often funds sellers and helps them to maximize their property values by bringing in Team Rock's own expert staff – at his expense – to stage, paint and landscape properties; Armen even provides an 18-foot moving truck, complete with hydraulic lift gate, to help move his customers, free of charge. Personal touches such as these help to produce Armen's record-breaking sales prices, including per-square-foot sales records in Burbank, California ($389 per square foot), La Crescenta, California ($524 per square foot) and Tujunga, California ($275 per square foot).
With more than 60 transactions closed thus far in 2013, Jerry Armen and Team Rock Properties show no signs of slowing down.
About Team Rock Properties
Team Rock Properties is a market-leading real estate agency located in Glendale, California, and serving the Glendale, Burbank, La Canada, La Crescenta and Sunland- Tujunga markets.