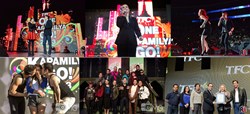 This had been the most challenging year for One Kapamilya Go, but it was also the most rewarding. As Lea aptly said, everyone realized that 'kapamilya' is more than a tagline... and that's what really matters.
Redwood City, CA (PRWEB) October 25, 2013
"Sulit na sulit! Sana maulit muli!"
It is with purposeful intent that One Kapamilya Go 2013 was billed as the apotheosis of the TFC Sama Saya series in North America. Not only was it a fitting climax to the annual TFC events season; it boldly took one big step further by adding a huge East Coast leg to its traditional West Coast setting in the last five years. Hence, screams of ecstatic fans saying that it was "totally worth it! Here's to a repeat!" have reverberated on ground, on-air, and online via social media.
The overwhelmingly positive reception by thousands who trooped to Prudential Center in Newark, NJ on October 18 and in California's Great America in Santa Clara, CA on October 20 is both welcome and deserved. If holding two legs for the first time wasn't enough, it also took a miraculous alignment of heavenly stars to assemble a truly stellar and eclectic cast for this year's One Kapamilya Go: from the Philippines's number one TV reality show, The Voice of the Philippines, were no less than Lea Salonga, Bamboo, champion Mitoy Yonting, runner-up Klarisse De Guzman and finalists Janice Javier and Myk Perez; from the number one romantic comedy, Be Careful With My Heart, were Richard Yap, Jodi Sta. Maria, Tart Carlos and Viveika Ravanes; and from the number one variety show, ASAP 18, were Yeng Constantino, Gerald Anderson, Maja Salvador, Sam Milby and Cristine Reyes.
With dynamites of talent come tons of expectations. The payload produced explosive results via a range of musical numbers that showcased the unique entertainment talents of this year's performers under the direction of ABS-CBN Global Head of Theatricals John-D Lazatin.
Yeng and Bamboo opened the show with a rockin', walk-down-memory-lane "Best of the 80s" medley, followed by the gleefully naughty comedy duo of Tart and Viveika who adeptly served as the thread that wove the diverse musical numbers together into a tightly knit, fast-paced extravaganza.
As the energy rose, so did temperatures, and these hit hyperventilation levels when crowds were regaled by intricate dance numbers from Maja (who gloriously channeled J-Lo) and Cristine who did an infectious choreographed dance clap routine to the tune of Lady Gaga's Applause.
And if there were near fainting spells among the audiences in both legs, the culprit had to be the Gerald-Sam duet of Robin Thicke's 2013 summer anthem, Blurred Lines. The hunky duo's hot number spelled "p-a-r-t-y t-i-m-e" and had the old and young alike, ladies and gents, up on their feet, swooning and gyrating to the beat… if they didn't faint.
The second half of the show unveiled exceptional musical musings of today's loftiest Filipino voices. Yeng and Bamboo's duet of their iconic hits, Hallelujah and Hawak Kamay, was airtight vocal craftsmanship. The on-stage chemistry of these two is undeniable. Yeng's sing-along medley of Air Supply hits was wonderfully nostalgic. Bamboo's solo, the anthemic, Noy-Pi, was indomitable: soaring with patriotic pride, rousing with nationalistic fervor.
The much awaited U.S. debut of the Final Four of The Voice of the Philippines was worth the wait. Klarisse, Janice, Myk and champion Mitoy serenaded the crowd with an unforgettable "Teleserye Medley". Then Mitoy tackled the Freddie Aguilar classic, Anak, with the visceral dramatic intensity and range of a screaming metal tenor. His sure swagger completes his on-stage character: a true larger-than-life Pinoy rock star for the times.
Fans haven't recovered from being bowled over by the showstopping performances when the most awaited love team of Sir Chief and Maya – Richard and Jodi – raised the shriek decibel levels even several notches higher with their solo and duets. For New York/New Jersey and San Francisco Bay Area Be Careful With My Heart fans who had prayed for the on-screen couple to grace their shores, Richard and Jodi's participation in One Kapamilya Go was the answer. Their numbers were sugar-coated confections, but they were precisely what the doctor ordered for the lovesick and romantic at heart.
As the audiences feasted on the sound and visual buffet – vocal fireworks with a spectrum of lights and vibrant videos on colossal screens – they were served with a world-class entrée: a Filipina voice that has brought the country honor and distinction in the international arena. Enter Lea Salonga – she with the luminous aura and vocal purity of a Greek Muse. Unerring in her musical story-telling, she had everyone's undivided attention, taking all to a rewind journey that included her much applauded renditions of Sana Maulit Muli, a medley of her signature Broadway hits and the nostalgic holiday hymn, Pasko Na, Sinta Ko.
Lea's last solo was a perfect segue to the finale number with the entire cast who sang an appropriate medley of Filipino Christmas songs, bringing the entire crowd to its feet, as they are taken to a sentimental journey back home to the Philippines. And when the last note was sung, they remained on their feet, applauding with joy and pride over the Filipino entertainment event history that they witnessed.
One Kapamilya Go Project Head Ricky Resurreccion remarked: "This had been the most challenging year for One Kapamilya Go, but it was also the most rewarding. This one took a whole village – executive management, the sterling cast and crew from Manila and North America, the East and West Coast Filipino communities, Office of the Mayor of Newark and the Philippine Consulates General, Filipino organizations and media, Philippine- and U.S. based businesses that sponsored the event and our venue partners. As Lea aptly said, everyone realized that 'kapamilya' is more than a tagline; it is a real connection, a solid affinity, a meaningful relation. And that's why everybody gave their best. To us, that's what really matters."