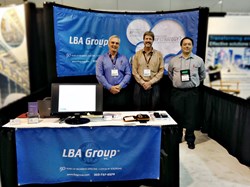 LBA is uniquely qualified to address challenges that mission critical facilities face in light of the ever increasing use of RF within and around these operations.
Greenville, NC (PRWEB) October 25, 2013
All three business units of LBA Group, Inc. were represented at the October 2013 Critical Facilities SummitSM in Charlotte, N.C. The Summit is an educational conference and product expo targeting seasoned professionals who are responsible for the design, construction and management of mission critical facilities and data center operations.
LBA's technology consultancy, RF systems manufacturer, and safety training units were all available to offer input and answer questions at the Summit. LBA's Chief Technical Officer, Chris Horne, PhD, PE led one of the many educational sessions that were available to attendees. Dr. Horne focused on the importance of RF strategy development early in critical facility project planning. He addressed the RF issues that mission critical facilities can encounter when advanced planning is not in place.
LBA is uniquely qualified to address challenges that mission critical facilities face in light of the ever increasing use of RF within and around these operations. Recently, a hospital was dealing with the failure of its RFID infant security system due to interference. LBA was called in to find the source of the interference.
In the Critical Facilities Summit Project Spotlight Session, Dr. Horne addressed how LBA utilized previous experience with hospital RF systems to respond quickly and provide information the hospital needed to move forward with a long term plan to correct the situation.
Dr. Horne also discussed another project that presented a challenge because 20 buildings as well as an underground tunnel were involved and were in the early stages of construction. LBA worked with the engineering design firm and developed a forward looking RF strategy to support future wireless and public safety coverage needs throughout the large campus.
Those attending the Critical Facilities Summit included telecommunication firms, financial institutions, hospitals, research laboratories, e-commerce retailers, and others. LBA was honored to have its CTO along with Vice President of Sales, Mike Britner; Director of Safety Training, Bryan Dixon; and Business Development Specialist, Byron Johnson in attendance. They were all available to answer questions and be a resource to the elite group of facilities and engineering professionals seeking to improve the productivity, performance and reliability of their facilities.
For more information on developing an RF strategy, solving RF facility issues and RF safety, contact Mike Britner, mike.britner(at)lbagroup(dot)com, 252-757-0279. Keep up with LBA Group, Inc. news and information by following us on Facebook at: http://www.facebook.com/LBAGroup.
About LBA
LBA Group, Inc. has 50 years of experience in providing RF asset solutions and risk management for industrial and telecommunications infrastructure assets. The company is comprised of the technology consultancy, Lawrence Behr Associates, Inc.; LBA Technology, Inc., a leading manufacturer and integrator of radio frequency systems, lightning protection, and EMC equipment for broadcast, industrial, and government users worldwide; and LBA University, Inc., providing on-site and online professional training. The companies are based in Greenville, N.C., USA.