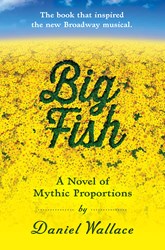 Remembering a man's stories makes him immortal, did you know that?
(PRWEB) October 28, 2013
"Remembering a man's stories makes him immortal, did you know that?" Big Fish, the comic and poignant story of a father told by his son, has entertained millions first as a book, then a hit movie by Tim Burton and now as a hit Broadway musical. Today, fans also can read Big Fish as an e-book by Zola Books.
"I'd be thrilled if this e-book release helped reach a new generation of screen-addicted fans," said Wallace.
In Big Fish, William Bloom has never really known his father, a charming, globe-trotting salesman with a joke for every occasion. Now Edward Bloom, dying, comes home to Alabama, and his son hopes for connection, asking questions — Were you happy with your life, Dad? Was I a good son? — meant to move them beyond the one-liners and anecdotes. Edward, on his deathbed, responds with more jokes. So William turns to his own imagination, using the few biographical facts he knows to fashion for his father a heroic life out of myth and legend.
"Daniel Wallace is a wonderfully talented storyteller, and I knew from the first pages of Big Fish that it would be enjoyed by readers for years to come. Now, 15 years later, I am absolutely thrilled to offer Big Fish as a Zola exclusive. I am even more thrilled to offer readers a unique way to make e-books local by pledging a portion of the profits to a local bookstore," said Joe Regal, CEO and co-founder of Zola Books.
The digital version of this modern classic is available exclusively on ZolaBooks.com, which is supported by authors like Wallace who are putting their weight behind a new social e-book retailer that supports a robust and competitive e-book marketplace and recognizes the importance of the indie bookstore in communities. Zola Books partners with dozens of top independent bookstores nationally and lets readers choose their favorite indie store – and with each e-book they purchase from Zola a major share of the proceeds is directed to that reader's beloved store.
For the Big Fish e-book launch, Zola Books has partnered with Flyleaf Books in Wallace's hometown of Chapel Hill, North Carolina. To explore the Big Fish Flyleaf Books digital exhibition, click here: blog.zolabooks.com/big-fish-ebook (exhibition platform provided by dotdash3.com).
To celebrate the exclusive release of the Big Fish digital edition, Zola Books is offering a 1-day flash sale; regularly available for $8.99, the Big Fish e-book is available for $1.99 on October 28, 2013.
Praise for BIG FISH:
"A nice encapsulation of the complexity with which many sons view their fathers."—James Polk, New York Times Book Review
"[Big Fish] gets right to the poetry of a son's feelings for and memories of his father. "—Publishers Weekly
"A vigorous updating of the purely American genre of the tall tale—as well as an imaginative, and moving, record of a son's love for a charming, unknowable father."—Kirkus Reviews
About Daniel Wallace
Daniel Wallace is the author of five novels. His first, Big Fish, was made into a motion picture of the same name by Tim Burton in 2003, and a Broadway musical and e-book by Zola Books in 2013. Wallace's work has been translated into more than 25 languages. He is a contributing editor to Garden & Gun magazine and is the J. Ross MacDonald Distinguished Professor of English at the University of North Carolina, Chapel Hill, where he teaches and directs the creative writing program. He lives in Chapel Hill, North Carolina with his wife, Laura Kellison Wallace. Visit his website at DanielWallace.org.
About Zola Books:
Zola Books' mission is to create an online paradise for book lovers. Zola takes everything readers do in the real world – browse bookstores, read book reviews, visit blogs, follow authors, share reviews and recommendations, and buy all kinds of books – and puts it all in one place. Zola also shares profits with booksellers who recommend books online and off. In addition, Zola offers exclusive e-books - including The Time Traveler's Wife by Audrey Niffenegger, The New Hunger by Isaac Marion, and The Accidental Victim by James Reston Jr. Visit us at http://www.zolabooks.com.