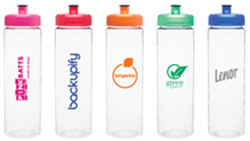 Mixonic has earned consistent high grades from customers and a great reputation in the online custom products space.
San Francisco, CA (PRWEB) November 08, 2013
An online leader in the production of custom media and merchandise, Mixonic Inc. has announced the addition of custom printed drinkware to its line of made to order promotional products. Mixonic now offers over 90 styles of custom water bottles, coffee mugs, glasses, travel mugs and water tumblers in a wide selection of colors, styles and price points. These beautifully designed products can be customized with a company's logo or other design.
Mixonic's drinkware selection ranges from economically priced custom water bottles and glasses to higher-end travel mugs and wine glass gift sets. Logo and design printing options include silk screening and etching on glass. Drinkware will generally be custom printed and shipped within 7 to 10 days of order placement.
The launch of its drinkware line extends Mixonic's current offering of made to order branded products, which includes custom branded totes and bags and embroidered hats and baseball caps. "Mixonic has earned consistent high grades from customers and a great reputation in the online custom products space. We continue to upgrade, expand and leverage our technology to serve more markets and customers, always with a great, intuitive online user experience," said Bob Jacobson, President and CEO of Mixonic. He added, "We want to change the way people order custom products. Through our online tools and customer service team, we provide the quality, reliability and service clients demand coupled with the transparency and affordability enabled by the web."
Promotional water bottles, mugs and other drinkware with custom printed logos can be used by organizations of all sizes for retail sales, trade show giveaways, fundraising or as gifts for premium clients, among other uses. Customers can order up to 1,000 custom drinkware items online and Mixonic offers phone and email support for larger and custom requests.
About Mixonic
Founded in 2001, San Francisco-based Mixonic is a custom media and merchandise production company. Mixonic is a national leader in custom CD and DVD production services and offers custom printed promotional products and merchandise including drinkware, totes & bags, baseball hats, USB drives and posters and flyers. Mixonic focuses on short run jobs of 50 to 5,000 units and has produced and shipped projects for over 100,000 unique customers, ranging from Fortune 500 corporations to independent musicians and filmmakers to small and mid-sized businesses. The Company's retail website enables customers to easily create, order and track projects online 24/7. For more information please visit http://www.mixonic.com.