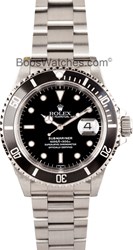 The Submariner is one of the brand's quintessential watches that is always in demand.
Huntington Beach, California (PRWEB) October 29, 2013
Bob's Watches is offering a Rolex Submariner Watch, Model 16610, for its "Win a Rolex Submariner" Giveaway, running from now until midnight, January 9, 2014. The drawing will be held on January 10, 2014, and the lucky winner will be announced within 72 hours of the drawing. Anyone can enter: Contestants can go to BobsWatches.com and enter their email information into the Win a Rolex Submariner box for a chance to win! They can also click the Like or Follow button to improve their chances of winning.
Paul Altieri, president and founder of Bob's Watches says, "The Submariner is one of the brand's quintessential watches that is always in demand, and we believe offering this type of timepiece is a great way to highlight the value of owning a true Rolex while bringing our company's services to those who have yet to meet our online presence."
A combination of unprecedented elegance and style, the Rolex Oyster Perpetual Submariner was unveiled in 1953 and remains a favorite among divers more than 60 years later. Not all timepieces are created equal, and the Submariner was one of the first watches pressurized up to 100 meters (330 feet). Today, thanks to Rolex's supreme crafting, the evolved Submariner watch can take its divers to depths of more than 300 meters, or 1,000 feet below sea. Assuring owners a water-resistant model that guarantees reliability and precision, this particular Rolex is both rugged and luxurious at the same time.
A recent article published by Men's Journal explains that in the case of luxury watches, "high costs have traditionally led to prolonged window shopping and capitulation." Websites like Bob's Watches, however, are creating a used-watch market that is "more transparent and accessible for first-time buyers." Altieri told the publication, "The difference between the buy and sell number is our profit and some parts," making the simple arithmetic that justifies buying a used Rolex much clearer.
Bob's Watches is the world's first and only pre-owned Rolex exchange where consumers can buy, sell and trade used Rolex watches at a truly fair market value. Bob's believes in complete transparency and publishes the current buy and sell values for each Rolex model, allowing the company to serve as an online marketplace for those who are looking for the best deal. Devoted exclusively to the used-Rolex market, Bob's Watches prides itself on obtaining stellar results for its customers. The company's business philosophy is built on integrity and trust – which is exactly why it has become the leading online destination for used Rolex timepieces. And unlike other online watch companies, Bob's carries an actual inventory of certified authentic Rolex watches: Each and every watch at BobsWatches.com is in stock and ready to sell.
To view their entire collection of Rolex watches on sale at the best prices, contact Bob's Watches at 1-800-494-3708 or check out their website.