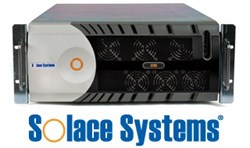 Solace hardware will let them ... provide more personalized, real-time service, and gain better insight into activity across their distributed enterprises.
Ottawa, Ontario (PRWEB) October 29, 2013
Solace Systems announced today that Intelligent Wave Inc. (IWI), a leading reseller and system integrator in Japan, will offer Solace messaging appliances to clients looking to upgrade the performance, capacity and reliability of their application infrastructure.
"Our customers include some of the most innovative and customer-centric financial institutions in all of Asia," said Kenichi Tachinooka, General Manager of Securities Systems Development Division at IWI. "Solace hardware will let them upgrade their infrastructure so they can provide more personalized, real-time service, and gain better insight into activity across their distributed enterprises."
In addition to offering higher capacity and performance than software-based messaging solutions, Solace appliances will accelerate and simplify deployments so IWI clients can focus on introducing innovative new services and solutions.
"We are excited to be helping IWI offer state-of-the-art hardware-based application infrastructure to their clients in the key financial services markets," said Graeme Beardsell, Managing Director of Asia Pacific at Solace. "Their proven expertise in understanding and addressing the unique data distribution needs of financial institutions pairs perfectly with the strengths of our solution."
About IWI
For over 20 years, Intelligent Wave Inc. has helped securities firms with system integration challenges. In addition to accumulating significant expertise, IWI has developed and implemented solutions including its "RIX" communication middleware, a market data distribution system called Will-Trade Feed Handler/Cache, and an online transaction settlement system used by several major credit card firms. IWI also provides security technology that has been used for securities information distribution, fraud detection, and internal information leak detection systems. http://www.iwi.co.jp
About Solace Systems
Solace Systems makes appliances that let companies distribute real-time data to desktop, enterprise and mobile applications with higher performance and at lower cost than alternatives. Solace has been successfully deployed by customers in financial services, government, internet services, telecom, manufacturing, energy, retail, transportation and logistics.