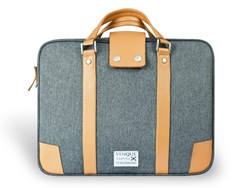 The Hamptons is a must-have for the discerning young urban professional
Toronto,Ontario (PRWEB) October 29, 2013
Beautifully harmonizing form and function, the Hamptons is a must-have for the discerning young urban professional. Meticulously designed to compliment and serve a busy lifestyle, the timeless English style has been infused with contemporary sensibilities.
The duality of the smooth, tan leather smartly juxtaposes with their signature slate grey Quanta fabric offering an unparalleled polished simplicity.
The soft case comfortably fits a 15" laptop and has multiple compartments for all your daily essentials.
Featuring a removable leather strap, it can be carried over the shoulder or by the handles.
For ease of use out and about, a zip-down pockets lets you conveniently slip in documents.
Available in Charcoal Grey and Brown colourways.
Real leather trim and details.
Water and weather repellent.
About Venque
Established by Toronto-based brothers, Simon and Viktor Cui, Venque is a label borne from the desire to create unique bags which offer timeless style and grow with character over time. Bringing their skills and experience in the fabric industry, exquisite craftsmanship and exceptional quality underpins everything they do. With a frustration at not being able to source fabric they wanted, they devised their own Quanta fabric which is exclusive to Venque and the cornerstone of their brand.