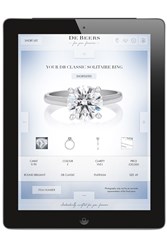 This service will deliver a ring that lights their heart with the Fire, Life and Brilliance of a diamond individually selected by The De Beers Institute of Diamonds for its innate beauty.
New York, NY (PRWEB) October 28, 2013
De Beers is delighted to announce the introduction of 'For You, Forever,' an in store service that invites clients to have their De Beers diamond engagement ring individually crafted for them. The knowledgeable and highly trained Brand Ambassadors are on hand to guide customers through the simple process of selecting their desired setting and unique diamond. This service will deliver a ring that lights their heart with the Fire, Life and Brilliance of a diamond individually selected by The De Beers Institute of Diamonds for its innate beauty.
In each personal consultation, during which the client's considerations are established, the De Beers provides original drawings and the inspirations behind its designs.
The 'For You, Forever,' diamond array is second to none, from a classic Round Brilliant to an elegant Emerald cut or contemporary Princess cut. All cuts are available in a range of carat weights, colours and clarity and the extensive portfolio of ring styles and designs ensures one is certain to find the perfect De Beers diamond engagement ring.
To further enhance this experience, De Beers has specifically developed an iPad in-store tool. The iPad application was developed by leading mobile solutions specialist Somo. Designed with the customer in mind it enables effortless comparison of styles and diamonds. Exclusive to De Beers, the 'For You, Forever' in-store tool allows clients to view each diamond individually through the eyes of an expert using the De Beers Iris. Slowing down what your eyes see in an instant, the De Beers Iris replicates differing light conditions to illustrate how true beauty in the perfection of the diamond's cut causes all eight sets of facets to illuminate simultaneously, sparkling with brilliance even in low light conditions. Customers can view a shortlist of their favourite styles, share designs with others, and make their final selection to be crafted individually for them.
A For You, Forever piece is a true statement of self, not only in the choice of style but also in the opportunity it affords a customer to be very precise about their requirements.
This De Beers ring will truly be yours, individually crafted for you, forever.
THE DE BEERS DIFFERENCE
De Beers, the Jeweller of Light, creates timeless treasures that reveal and celebrate the wondrous brilliance of women and diamonds. As the definitive destination for diamond jewellery, we have a quest for inner beauty, bringing lightness, femininity and delicacy to our sublime diamond jewellery.
Drawing on diamond mastery since 1888, De Beers hand-select each diamond for its unique beauty to capture unmatched Fire, Life, and Brilliance. Each unique De Beers creation is the culmination of wondrous artistry and the true beauty of the finest diamonds.
De Beers is proud to be the only brand to demonstrate the beauty of its diamonds, using the De Beers Iris. This proprietary technology, found in each De Beers store provides clients with an objective way to see the beauty of their diamond through the eyes of an expert.
THE DE BEERS GUARANTEE
Each piece of De Beers jewellery is certified with a De Beers passport and each polished diamond above 0.20 carats is microscopically branded with the De Beers Marque. The De Beers Passport documents the specifications of your diamond jewellery and is your guarantee that every single De Beers diamond is natural, untreated, conflict-free and responsibly sourced and crafted. The De Beers Marque, using technology patented by the De Beers Group, is invisible to the naked eye and ensures that each diamond is individually catalogued in the De Beers diamond registry, confirming its identity as a De Beers official diamond, to provide clients with a total peace of mind.
DE BEERS DIAMOND JEWELLERS
De Beers Diamond Jewellers was established in 2001 as an independently managed and operated company by LVMH Moët Hennessy Louis Vuitton, the world's leading luxury products group, and De Beers SA, the world's premier diamond mining and marketing company.
A DIAMOND IS FOREVER

A DIAMOND IS FOREVER * is a registered trademark of the De Beers Group