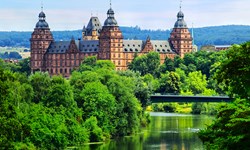 travelers can now enjoy I Fly First Class' exceptional deals on luxury autumn and winter flights to exciting Europe
Chicago, Il (PRWEB) October 29, 2013
From the snow-capped Alps to the mild, sun-filled cities in Portugal, Spain and Turkey, travelers can now enjoy I Fly First Class' exceptional deals on luxury autumn and winter flights to exciting Europe. For a limited time, I Fly First Class offers spacious business class round-trip fares to Europe for as little as $2,689 and lavish first class flights as low as $3,289.
"Whether traveling to London for business, to the sunny Canary Islands for vacation or to the holiday markets of Vienna, our latest discounts make luxury flights to Europe within reach for a variety of travel budgets," says I Fly First Class PR Manager Julia Graft. "As a leading provider of discount luxury airfare, we are pleased to be able to offer these newest, time-limited deals just in time for the holidays."
Deals Available on Flights to All European Airports
Travelers looking to experience the exhilaration of winter sports at top European destinations in Austria, Northern Italy, Switzerland, France, Lapland and Slovenia appreciate the economical, restful accommodations of first and business class. Fortunately, I Fly First Class offers its latest deals to all of the major airports throughout the region so that skiers, snow boarders and other snowbound thrill-seekers can easily reach the slopes of their choice. From Heathrow to Rome's Fiumicino and from Oslo to Cadiz' Jerez airports, I Fly First Class offers discounted deluxe flights to all of Europe's best winter destinations.
Amenity-Filled Flights for Professionals
Working professionals pursuing business opportunities, attending conferences and conducting meetings in Europe welcome the opportunity to fly in the roomy luxury of first and business class.
"With end-of-year travel budgets often tightening, busy professionals often appreciate the chance to fly in choice accommodations for prices similar to what they would ordinarily pay for coach," Graft notes. "Our time-sensitive deals take passengers to all of the top European business destinations, including Berlin, Frankfurt, London, Paris, Barcelona, Amsterdam, Madrid and Brussels. The beauty of first class travel lies in its pampering services that encourage passengers to rest and relax during long flights. That relaxing service and travel allows professionals to perform at their best when they arrive at their destinations."
Compare the Savings
With I Fly First Class' business fares dipping as low as $2,689 and first class fares starting at $3,289, the new discounts save travelers about 60 percent. Ordinarily, business class flights from Chicago to Barcelona can cost anywhere from $5,059 to $6,235, while first class flights from Los Angeles to Frankfurt can vary from $7,637 to $12,675. Those prices are dramatically higher than the time-limited deals recently released by I Fly First Class.
These European flight deals are available for a short time only, so travelers are encouraged to book early. Additional information about I Fly First Class' latest discounts on deluxe travel to Europe can be found online at http://www.iFlyFirstClass.com. There, travelers can view the most recently acquired fares and the latest discounts, and they may choose to chat live with I Fly First Class' experienced travel agents. Prospective travelers can also book these time-sensitive discounted fares by calling I Fly First Class toll-free at (888) 347-7817.
Julia Graft, PR Manager
http://www.iflyfirstclass.com