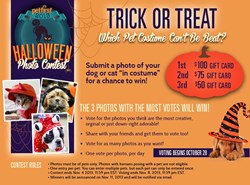 To enter your pet's photo in the costume contest, visit http://woobox.com/ph7paq.
Jeffersonville, IN (PRWEB) October 25, 2013
Do you dress your cat or dog in costume for Halloween? If you do, it could win you one of three great prizes courtesy of PetFirst.
PetFirst is hosting a Halloween Pet Costume Photo Contest on their Facebook page with the top prizes being $100, $75, or $50 Visa Gift Card. To enter, visit PetFirst Healthcare on Facebook or follow this link: http://bit.ly/1g143Wk. The deadline to submit photos is Monday, Nov. 4.
The 3 photos with the most votes will win. Votes can be cast daily by visiting the contest app on our Facebook page. Voting will be open from Oct. 28 – Nov. 8. Winners will be announced on Monday, Nov. 11 through the PetFirst Facebook page.
For more information on the contest or to enter, visit PetFirst Healthcare on Facebook and click on the Photo Contest tab. Or go directly to the contest app through our website at http://bit.ly/1g143Wk. For more about PetFirst, visit http://www.petfirst.com.
About PetFirst
PetFirst is the fastest growing pet insurer in North America offering easy-to-understand lifelong coverage for dogs and cats. PetFirst's comprehensive coverage is unique in the industry providing simplified policies with coverage for hereditary, chronic and breed-specific conditions with no per diagnosis limits. PetFirst offers pet insurance in all 50 states and the District of Columbia through animal welfare agencies, retailers, employers as well as other partners. PetFirst polices are underwritten by American Alternative Insurance Corporation (Munich Re) which is rated by A.M. Best as A+. Additional services are underwritten by Lloyd's. For more information about PetFirst pet insurance, visit http://www.petfirst.com or call 877-894-7387.
-30-