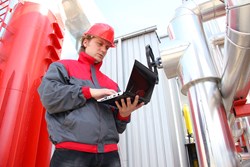 Burbank, CA (PRWEB) October 28, 2013
Engineers may be under the misconception that their businesses are at a low risk and do not need general liability insurance. While the chance of a customer or visitor getting injured in the home office or workshop is indeed low, all it takes is one occasion and the engineer could go under from all the legal and medical costs.
This coverage also extends to a commercial site or home where work is being performed. Even under the safest of conditions, accidents can and do happen. Many industrial complexes as well as home owners will want to see a certificate of liability insurance prior to an engineer beginning to work on a project. While the engineer may be the individual who made the plans and drew them with accuracy, a subcontractor may not read them properly and cause injury to a customer or damage to their property. General liability insurance will absolve the engineer of all financial responsibility for damage or injury.
In designing a project the engineer may recommend purchasing products from a particular vendor. If the product recommended is bought and it is discovered that it is substandard or faulty to the point that it has caused damage, the engineer will not be financially responsible for those damages or injuries.
Once work has been completed and the home or office is occupied, or the system has been running continuously, a problem may arise exposing a liability claim against the engineer or its employees. General liability can cover the insured for completed operations.
With the availability of the new program, Professional liability can now be included with the general liability policy. This coverage is highly important because it protects the engineer from any professional errors, advice or incomplete projects. If a customer or client claims that the insured was negligent or did not perform up to standards based on their contract, the professional liability will provide coverage for defense costs and any payouts if the insured is found to be at fault.
To learn how USA Business Insurance can combine general liability with professional liability insurance for engineers in all fields, visit http://businessinsuranceusa.com/engineer-professional-liability.
About USA Business Insurance: USA Business Insurance writes general liability insurance and professional liability insurance for large and small engineering firms as well as other business professionals throughout the U.S.